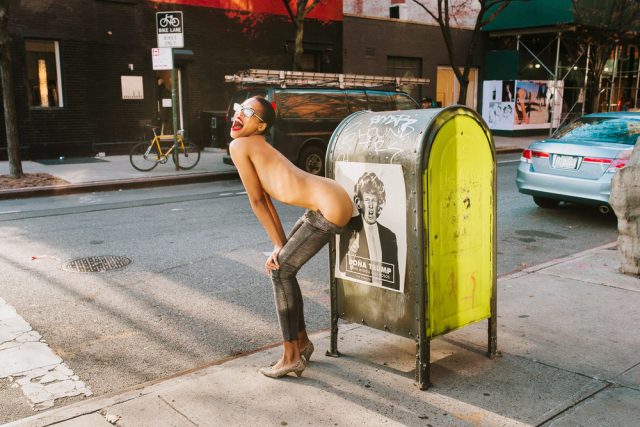 "There's a widely held belief that a disproportionately high number of the women in porn were sexually abused. It's one of those casually accepted notions that are difficult to disprove, because there isn't enough reliable research on the subject and because it happens to be true for several high-profile porn stars, such as Jenna Jameson and Traci Lords. We like to tell ourselves stories about why some women decide to do "this kind of work." … Stoya is the sex icon for a generation that doesn't trust institutions, and a greased-up, moaning blonde is the face and body of institutionalized sexuality."
* Stoya Speaks Out on James Deen, Consent, and Fixing the Porn Industry (New York Magazine)
THANK YOU SNOPES. "The sensationalized headlines, misleading opening sentences, and brief social media summaries of the story employed by such publications suggested to readers that the dog had developed a preternatural ability to sniff out pornography, leaving many people wondering just how it is that pornographic images (especially those stashed on computer storage devices) smell any different than other types of images…"
* Utah Gets Its First Porn-Seeking Dog? Not Really. (Snopes)
"Some might assume that the shift towards viewing gender as fluid or encompassing identities beyond the binary is a novel cultural change; in fact, several non-Western cultures—both historically and today—have non-binary understandings of gender. In Indonesia, one ethnic group shows us that the idea that gender identity is expressed in more ways than two is actually hundreds of years old."
* In Indonesia, Non-Binary Gender is a Centuries-Old Idea (Atlas Obscura)
"For those willing to pay a little more for their morning coffee, a café will be opening in Geneva, Switzerland offering its customers oral sex while they sip their latte. While prostitution is legal in Switzerland, reportedly not everyone is happy with the idea of an oral sex café opening in the city."
* Oral Sex Cafe To Open In Geneva, Switzerland For That Latte With A Difference (Inquisitr)
Don't miss the incredible Eye Candy extravaganza of het–lesbian–queer porn posts I did over Pride weekend!
"The operator of nine websites that offered or redirected to adult fare has been ordered to hand over the sites to the company that runs smartphone messaging app Kik. Adult-Kik.com, AdultKik.com, AdultKik.info, KikBlackbook.com, KikChatroom.com, Kik-Flyrts.com, KikHookups.com, KikOffers.com and Kiksters.com were ordered transferred to Kik Interactive of Waterloo, Canada, after an arbitrator found all of the sites cybersquatting."
* Messaging App Kik Wins Cybersquatting Case Against 9 Adult Sites (XBIZ)
"For Robert Yang, indie developer and educator at the New York University Game Center, sex in video games can be a good thing. Yang's games have gone viral for their sophisticated but lighthearted approach to what happens between consenting adults. "These games should be a normal thing that talks about experiences a lot of people have," Yang told International Business Times on Friday at the Games for Change festival in New York."
* TITLE (IBTimes)
VB note: I lost my beautiful black Duet, and I'm bereft! "Luxury sex toy startup Crave reports that it has raised $1.3 million in its latest funding round. According to CrowdfundInsider.com, the funding came from various angel investors and investment platforms CircleUp and AngelList. In 2013, the company raised $2.4 million from more than 60 angel investors."
* Crave Raises $1.3 Million in Venture Capital (XBIZ)
Watch @AORTA_films 'The OH Files' and 'OH (extended)' on June 30th at 8pm @TriskelionArts https://t.co/XmDL9lHXDQ pic.twitter.com/C784Xg0HkX

— PinkLabel.TV (@PinkLabelTV) June 27, 2016
[Erika] Lust did not intend to do this kind of work—she was a political science and gender studies major in college—but, as she describes in her March 2014 TED Talk, as a sex-positive feminist who wanted to enjoy pornography, she was stumped. "I wanted to watch some explicit movies—porn!—but I didn't like anything I found" …"
* Erika Lust, Feminist Porn Pioneer, on Creating a More Inclusive Kind of Erotica (Paper)
"In a domicile where space is at a premium, tiny homes can come with their own tax; namely, your sex life. … The question has been raised before, both by incredulous viewers of Tiny House Hunters and by tiny home owners themselves who resent the idea that their sex lives might be anything other than perfectly mundane."
* How Do People In Tiny Homes Have Sex? (Cosmopolitan)
"If prostitution becomes legal in South Africa, Nosipho Vidima, a 30-year-old sex worker, knows exactly what she'll do. She'd start her own business called The Pleasure House, a classy operation staffed with an office administrator trained in finance, a group of prostitutes earning minimum wage – and maybe even an Italian chef."
* In South Africa, a Debate Over Selling Sex (US News)
Main post image via FUCKING NEW YORK: Sex With The City art photography book by Nikola Tamindzic.
The post Sex News: Stoya in NY Mag, porn dog in Snopes, oral sex cafe, tiny home sex appeared first on Violet Blue ® | Open Source Sex.
More Amateur wife XXX videos