Seven skilled authors merge sci-fi and sex: Wetware: Cyberpunk Erotica (ebook, $3.89)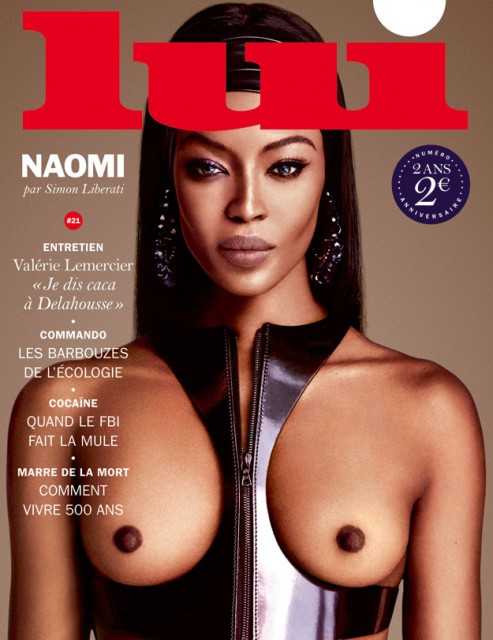 Image: Naomi Campbell on the October 2015 cover for Lui Magazine.
Porn.com takes the lead among the first companies in the online adult industry to completely drop Adobe Flash as its default video player in favor of a more secure HTML5 player, following in the footsteps of Internet giants such as YouTube, Mozilla and Twitch. In recent months, Adobe Flash has come under fire for being too vulnerable to hacker attacks due to its glaring security flaws.
Porn.com Moves Over to HTML5 Player (XBIZ)
The Economist covers the business angles of porn and the internet (what I've been writing about for 10+ years) and does a stellar, interesting job of it in the current issue. "More and more content producers are signing deals to let their stuff appear on tubes: if a viewer clicks through to the originating site and subscribes, the tube will get a cut, sometimes as much as 50%. Since tubes get so many visitors, the bargain may be worthwhile for pay sites even if only one in 1,000 of them decides to subscribe."
Naked capitalism (Economist)
"These papers offer some comfort to those worried about anti-porn campaigners' most alarming claim. Online porn is not producing a generation of zombies unable to relate to the opposite sex, and porn addiction, if it exists at all, is very rare. And the worriers' fears were not borne out in the past: since the 1950s women's status has improved; rape has become rarer; and couples have continued to meet and fall in love."
Generation XXX (Economist)
Thanks to our sponsor in Spain, women-run Lust Cinema.
Rumors about the sex scenes in HBO's upcoming series Westworld are flying, and everyone is on damage control; currently the salacious headlines have HBO and SAG pointing fingers in the press. Either way, I can't wait – it'll have some of my all-time favorite actors and stands on the shoulders of one of my favorite old sci-fi flicks.
HBO's Daring New Show Promises to Make the Game of Thrones Sex Scenes Look Tame by Comparison (Vanity Fair)
MetArt has dropped its lawsuit against adult entertainment conglomerate MindGeek and its PornHubPremium.com property. The suit, filed in August in Miami federal court by Hydentra L.P., which does business as adult content providers MetArt and SexArt, claimed copyright and trademark infringement after it allegedly found 100 of its copyrighted videos on the adult tube site.
MetArt Drops Suit Against Mindgeek (XBIZ)
Honey Lee Cottrell was one of the "core four," along with Debi Sundahl, Nan Kinney, and Susie Bright, who gave On Our Backs its style and success. When it started in 1984, she proposed a "Bulldagger of the Month" centrefold for the first issue. She was a member of San Francisco Sex Information in the 1970s, and co-authored I Am My Lover, a 1978 feminist book celebrating masturbation that she created with Joani Blank and Tee Corinne; her still photography has appeared in publications including The Blatant Image, Coming to Power, Sinister Wisdom, and Nothing But the Girl.
Honey Lee Cottrell: Lesbian Photographer, Filmmaker, Pioneer of Women's Erotica, Dies at Age 69 (mysocalledgaylife)
Much gratitude to our thoughtful sponsor, Nubile Films.
A couple years back the Incredible Things blog learned about Slap It, a butt lamp that turns on when you spank it. Back then there were only a limited amount available for purchase at upwards of $1k. But now, they're available once again and at the affordable price of $230.
This Butt Lamp Turns On When You Spank It (Incredible Things)
Every member of the University of York Fetish Society had their name revealed by secretary who apparently didn't use the BCC function. The kinky student club runs a variety of BDSM-related activities for students at the top Yorkshire university. Last week, the secretary accidentally revealed all the names of the student members in a mass email, before issuing a apology.
Every member of fetish society revealed after 'unforgivable' email bungle (Mirror)
(Canada) A Bank Street sex shop has been slapped with a $260 fine under a city bylaw after a teen purchased a "chest binder" — a sleeveless elastic undervest used to flatten the chest. Venus Envy owner Shelley Taylor said, "It's so upsetting cause Venus Envy is the only place in town to buy binders. And we do see a lot of young people because that's who can't order online and who often need info as well as products," says Taylor.
Venus Envy fined for selling 'chest-binder' to teen (Ottawa Citizen)
Previous studies of how heterosexual women perceive penis size and shape relied on 2D drawings and photographs of flaccid penises. Now, a research team of psychologists from UCLA and the University of New Mexico have taken things into the third dimension.
Researchers Are Making 3D-Printed Penises To Test What Women Think About Size (Gizmodo AU)
"Gaspar Noe's Love is ridiculous, and I'm fairly convinced it knows it. It's a movie about dicks, which are ridiculous objects; and ridiculous people, who happen to be dicks. It's the great cinematic circle-jerk. Your mileage may vary. There is, as has been well-documented, a great deal of sex in the movie, and the sex is unsimulated."
Destroy All Monsters: LOVE And Dicks (TwitchFilm)
Thank you to our sponsor in Holland, Abby Winters.
Betty Blythe in 'The Queen of Sheba' 1921 pic.twitter.com/pEquvbbhXD

— Old Pics Archive (@oldpicsarchive) September 26, 2015
Lawyer Kazuko Ito and Setsuko Miyamoto welcome as 'groundbreaking' a recent Tokyo court ruling that declared making individuals appear in porn movies against their will is illegal, during a news conference in Tokyo on Tuesday.
Landmark ruling in favor of victimized porn actress paves way for others to quit, say lawyers (Japan Times)
Grace Jones, from I'll Never Write My Memoirs: "What are the chances of a female president being elected? The men-only corporate reaction is: What about the tampons? Will she bleed everywhere? What if she gets pregnant? What if she is going through the menopause? What if she's been through the menopause and is therefore old and used-up? It's the same old caveman shit, a power thing. It's why I want to fuck every man in the ass at least once. Every guy needs to be penetrated at least once."
'I want to fuck every man in the ass': Grace Jones on misogyny and the music industry (TimeOut)
A top-secret GCHQ document from March 2009 reveals the agency has targeted a range of popular websites as part of an effort to covertly collect cookies on a massive scale. It shows a sample search in which the agency was extracting data from cookies containing information about people's visits to the adult website YouPorn, search engines Yahoo and Google, and the Reuters news website.
From Radio to Porn, British Spies Track Web Users' Online Identities (Intercept)
Thank you to our sponsor and friends, Pink Label TV.
Sprinkling one's erotica with its fair share of Yiddish and Hebrew takes a fair bit of ingenuity and chutzpah—especially when the person behind the sexy prose is not only an Orthodox Jewish woman but one committed to following halacha, a collection of Jewish religious laws that tackle a range of subjects from whether you can mix meat and dairy (nope) to whether you can perform oral sex on your wife (probably yes).
How Orthodox Women Sell Sex (Daily Beast)
Everyone who has heard of Paul Verhoeven's Basic Instinct will instantly recall the iconic scene of Sharon Stone slowly opening and closing her legs in a police interrogation. The film's content could most certainly be described steamy, but it required the inclusion of [violent] elements to keep an R-rating.
Why Basic Instinct Was Able To Get Away With Such Lengthy Sex Scenes (Cinemablend)
An Australian artist who previously drew a torrent of angry comments for knitting with wool inserted into her vagina will soon weave that negative feedback into a new work of art.
Artist Threads Angry Internet Comments into New Vaginal Knitting Project (Hypoallergenic)
Warning for survivors of sexual assault and trauma. "The true hero of Asking for It is unmistakably Doreen, Vivienne's intelligent, sympathetic psychologist. 'Rape fantasies are among the most common sexual fantasies women have,' she tells Vivienne (and the reader). 'The fantasy isn't your problem; it's the extremity of your fixation on it.'"
Can feminists enjoy romance fiction? (Aeon)
The post Sex News: Porn kills Flash, Economist on porn biz, Westworld rumors, the butt lamp appeared first on Violet Blue ® | Open Source Sex.
More Amateur wife XXX videos