With the coronavirus pandemic still raging all over the world, many people are stuck at home. If they are stuck there with a partner, the chances are they are passing the time by getting intimate together. There's nothing quite like sex to take one's mind off a crisis. Failing that, there's always masturbation, so we are sure that traffic for porn sites is going through the roof right now.
Things in Japan just got more serious, with the declaration last night of a state of emergency, although the current number of infections are still much lower than other major industrialized nations.
How has COVID-19 affected the adult and sex industry in Japan?
In other parts of the world, the coronavirus has led to a huge boost to sex toy sales. While we haven't seen any figures yet on the Japanese industry — share if you have — we know that sex toys are selling well — so well, in fact, that certain shops are selling out of onaholes. Our friends at Kanojo Toys are still open for business as usual, shipping Japanese sex toys all over the world.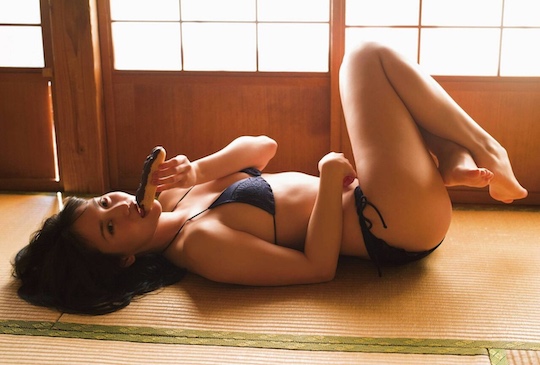 One of the most prominent early response from the industry to the crisis came from Soft on Demand, which launched a campaign offering free porn. It was so popular that the SOD server crashed.
But then came the down side: the campaign may have attracted people hoping to exploit the situation to do harm, since there is speculation that it led to a personal information leak.
Gravure idols are mostly stuck at home right now, with photo shoots and releases postponed. They have been posting alluring selfies on their social media accounts, which certainly helps take our minds off the news.
Many gravure idols will likely lose work due to the crisis, as will so many. Sex workers and hostesses, too, are going to suffer from possibly weeks of lost income. Will they be compensated? So far, the Japanese government's announcements on aid packages have excluded such people as bar hostesses and sex workers, even though they pay taxes just like the rest of us. This has rightly prompted concerns from many that this constitutes discrimination. Officials have promised to take another look at the scope of the compensation.
Incidentally, hostess clubs (and bars in general) have been a cause of infections spreading in Japan. Dozens of people who worked in Shinjuku establishments have tested positive, meaning they probably passed it on to other colleagues and customers.
Even before the state of emergency was declared, brothels in Tobita Shinchi, the long-running red-light district in Osaka, had already taken the step of shutting their doors to protect patrons and employees during the crisis.
Stay safe, everyone! We will continue to blog about sex, sexuality, and adult themes in Japan.


More Amateur wife XXX videos