As previously discussed on this blog before, hostesses and hosts have received much of the blame for the spread of the coronavirus in Japan, especially in Tokyo.
The nightlife scene, particularly the seedier side in areas like Kabukicho, has found itself demonized by the authorities and media as the most obvious source of infection clusters.
While we don't doubt that intimate encounters with prostitutes or long sessions in small hostess club booths does increase the risk of infection, we are very suspicious of the narrative that the media is pushing.
Indeed, this week Tokyo announced 55 new infections — the most in a single day for several weeks — and blamed clusters at workplaces, so the situation is certainly more complex.
Hostesses and prostitutes, and their bosses, have seen their income plummet, if not completely disappear. Some hostesses have tried to invigorate the industry through new virtual or remote services.
Attempts to reassure potential customers may also backfire, as a sex parlor in Osaka found out when it advertised that its working girls were COVID-19 negative but had actually tested none. The managers were arrested.
Could the answer simply be masks? Would you like to spend a lot of money talking to a hostess whose face is covered by a mask — and perhaps there is a sheet of plastic between you or she is also wearing an eye shield? Hardly realistic.
But one kimono maker believes that its mask may be the solution.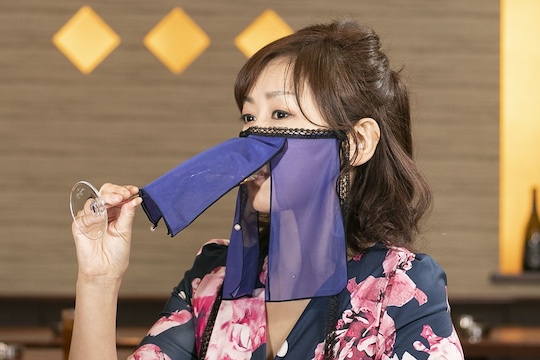 According to a report from Kyodo News, the Yamagata-based company Otozuki has teamed up with a nightclub operator to produce "hostess-friendly face masks that make it easy to sip drinks and create an alluring atmosphere."
Inspired by face veils worn by belly dancers, the masks feature three vertical strips of cloth that form a curtain covering the nose and mouth, with the strip in the center of double thickness.

Users of Face Veil are able to eat and drink without removing the covering just by raising the middle strip of cloth.
"They are less uncomfortable than (normal) face masks," an official claimed, in a dubiously worded double negative. "They are becoming popular among women working in the nightlife industry."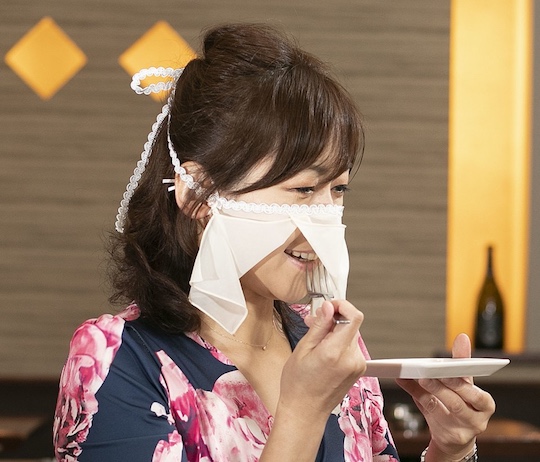 Here you can see a demonstration of how the mask/veil is used.
The masks come in various colors and materials, including lace, and are priced between ¥2,200 and ¥3,850, which is pretty hefty for a single mask.
Is this what the future of hostessing looks like?


More Amateur wife XXX videos