The Japanese gravure idol (glamor model) industry is a competitive and overly populated place, with idols coming and going in quick succession.
In order to maintain their status, idols are required to keep up strong social media presences. This, of course, means Twitter and Instagram, but increasingly also YouTube. Gradols have to be YouTubers these days, too.
The coronavirus has made this more urgent than before as splashy shoots and meet-and-greet events are either not having or only in far reduced numbers, decreasing the potential for idols to earn fees. Perhaps feeling the pinch, Natsumi Hirajima (formerly of AKB48) launched her own channel in July this year, but was a victim of her own success: one bra demo video, which really showed off her incredible bust, went viral, only for it to get taken down (perhaps for being too revealing). Thankfully, she has continued to make videos, albeit somewhat tamer ones.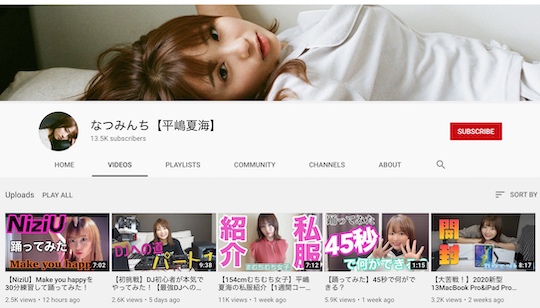 We have searched for some of the most interesting and unusual examples of the new (and newish) channels currently floating around the digital corridors of YouTube…
Erina Kamiya
After changing her name (just the kanji, from 神谷えりな to 上矢えり奈) in April 2019, indicating a change in management, which can sometimes mean the end of a career, Erina Kamiya has sought to keep and cultivate her fandom through videos. She launched her YouTube channel in April 2019 and has over 100,000 subscribers. Here is one video in which she discusses the difficulties that come with having a G cup.
Yume Hayashi
The lingerie model and former reality TV star Yume Hayashi (aka Yume Yoshida) has also wracked up hundreds of thousands of views for her videos on her channel, which she launched in November 2019.
Shoko Hamada
A more established channel (since January 2019) is by gravure veteran Shoko Hamada, who is now in her mid-thirties (remember when she stripped nude to mark turning three-oh?) and hunting for a husband. In her videos, she mainly models underwear from big retailers like GU, Uniqlo, and Zara.
Rina Koike
A slightly approach is taken by Rina Koike, long a favorite of this blog, in which the slinky star partners with TV broadcaster TBS for a series of videos on a channel launched in October 2018. Specifically, the gradol collaborates with TV announcers to produce ASMR fetish videos.
Recently, she has made ASMR videos for food and drink.
Sakura Otawa
More straightforward in their appeal are the videos put out since July 2019 by the newer gravure idol Sakura Odawa, which tend to showcase her bust and body in workout sessions. Her channel has accrued almost 2.4 million views as of writing.
Sakikichi
This switchover from gradol to YouTuber works both ways. Last year, the YouTuber Sakikichi made a well-publicized gravure debut.
Here is a fairly typical example of her channel, where she goes to get her you-know-what fully shaved and made paipan. Clickbait, much?


More Amateur wife XXX videos