Is this the future of kissing between couples in the age of the coronavirus?
A playful picture recently shared on Twitter by the idol and mangaka Rin Kaname (of Dempagumi.inc) hints at what kissing might become if things don't improve some day soonish.
The photo shows two people — in this case, two attractive Japanese women in their underwear — kissing through a see-through plastic wall. The image is captioned "social distance kiss." One of the women is, we presume, Kaname herself, though please help us out if you can identify either of them more accurately.
The image was posted by Kaname to her 147,000+ followers on August 4 and has generated 7,500 likes and counting.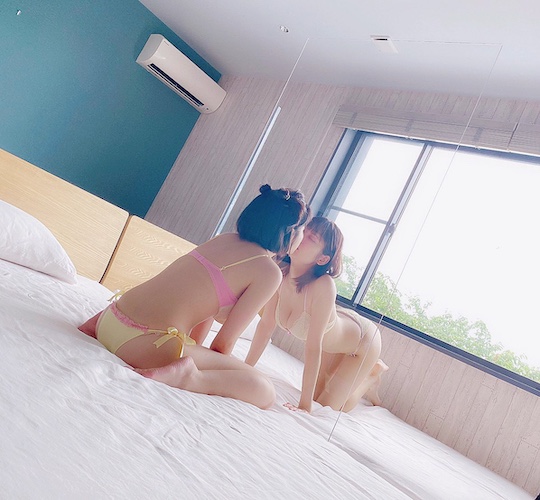 Of course, we exaggerate a bit. But the image does expose the paradox of social-distanced kissing: an act that requires intimacy cannot be done by half measures.
But experts have already advised against "deep kissing" during sex and hostesses, whose whole schtick is selling a kind of intimacy, are having to wear special masks and clubs are closing or going to extreme lengths to sterilize.
We have yet to see reliable stats, not least because it's a shadowy industry, but we are sure that prostitution is really suffering. Porn should, in theory, be booming, because people are stuck more at home with fewer outlets for their horniness (or even doing stuff in general), hence the explosion of demand when a major online porn sale was announced. But we wonder if the number of porn productions are notably down from those in a regular year.
And despite an uptick earlier in the pandemic, we reckon love hotel usage rates are down overall. How can you date at a time like this? How can you hope to get intimate when fears of infection may outweigh even desires to have sex with a partner (new or otherwise)?
Experiences? Anecdotes? Stories? Share in the comments below!


More Amateur wife XXX videos