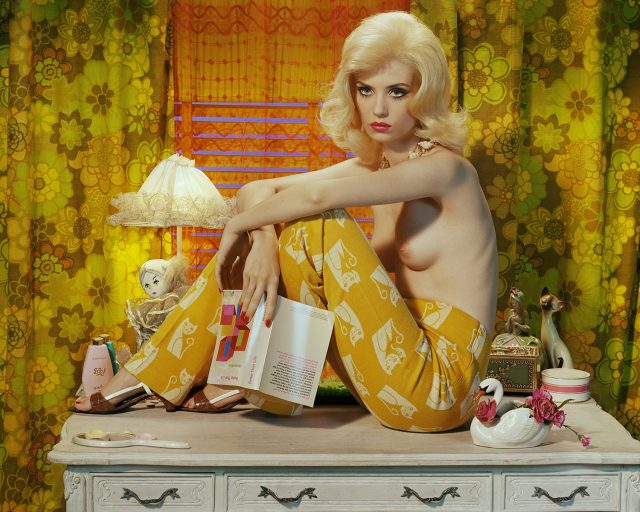 "Adult content creators are worried they won't have a safe, viable income source in Patreon anymore. Last week, the site, which allows creators to sell subscriptions to fund their work, made its community guidelines on adult content more strict. … A group of creators penned an open letter to Patreon in response to this change titled "Don't abandon us," and are organizing a petition asking Patreon to reevaluate these changes. … Wednesday morning, according to Patreon's CEO, Jack Conte, Patreon added more phrasing to their guidelines, including that they're not allowing "real people engaging in sexual acts, such as masturbation or sexual intercourse on camera.""
* Adult Content Creators Are Fighting Patreon's New Anti-Porn Rules (Motherboard)
* See also, updates: Adult Content Creators: Patreon Is Doing 'the Exact Opposite of What We Asked For' (Motherboard)
* VB note: One of the ways this site stays running is thanks to my patrons. I don't know if this will affect me, considering that I occasionally post sex-positive porn galleries I find.
"Last Thursday, former Microsoft spokesman and well-known blogger Robert Scoble became the latest of the many, many men in the technology industry who have been publicly accused of sexual harassment this year. … On Wednesday, Scoble shared a new blog post, apparently against the advice of his lawyers, that he hopes "in the spirit of healing" will help to "set the record straight." Mission failed. … In the almost interminable blog post, unapologetically titled "No, of that I'm innocent," Scoble writes that he is actually the victim here, not the women he allegedly assaulted or harassed."
* Scoble Isn't Sorry (Slate)
"Hundreds of women including actress Julianne Moore have now come forward with allegations of crass behavior and sexual misdeeds by filmmaker James Toback, and authorities in Los Angeles and New York are urging them to file official reports. … The encounters often ended, according to many of the women interviewed, with Toback dry-humping them or masturbating in front of them, ejaculating into his pants or onto their bodies."
* James Toback's 200-plus accusers now include Julianne Moore (Los Angeles Times)
"One of the primary reasons – in my opinion – that 'adult' content is so hard to promote and monetise is that companies refuse to accept one important fact: Adult consumers are consumers. No one lives their life entirely in a 'NSFW' silo – only ever engaging with porn or sex blogs. You – the people who read this – have full and rounded lives. … However, when platforms like this strip 'adult' from their services, they are banking on the fact that you won't care. That it won't make a difference to you because adult content is embarrassing and shameful: no one's going to share a link to their favourite porn site, or their favourite bit of erotic writing, so really who's going to notice if all that shit disappears?"
* Sex blogger SOS: Share Our Shit (Girl on the Net)
Find this post interesting? Support its creation on my Patreon page.
This week's video is a list of resources for sex nerds

Hope you enjoy & please RT!https://t.co/1DAkD0JsKH pic.twitter.com/qQ9DKBoYAn

— Hannah Witton (@hannahwitton) October 24, 2017
"Of the accounts, perhaps the most distressing is that of Italian actress and director Asia Argento. In the article, she recalls Weinstein forcing himself on her and performing oral sex, despite her requests to stop. "At some point," reads the piece, "She stopped saying no and feigned enjoyment, because she thought it was the only way the assault would end." The actress says she still blames herself for what happened. … But while many around the world have commended Argento for the risk she took in sharing her story, things have been different in her home country of Italy. Since the article came out, the outrage has been overwhelmingly directed towards Argento."
* In bashing Asia Argento for her Weinstein assault claims, Italy is showing its deep misogyny (Quartz)
Only five million years after his sexual predation was well-documented … "According to the email, Woolhouse instructed Condé Nast International — the publisher of fashion magazines like Vogue, GQ, Vanity Fair, and Glamour — that all work commissioned for [Terry] Richardson should be "killed or substituted with other material"."
* Photographer Terry Richardson Has Been Banned From Top Magazines After Allegations From Models (BuzzFeed)
"A man agreed to plead guilty to hacking into 550 Apple iCloud and Gmail accounts, including those of celebrities in Los Angeles, officials said Monday. … Authorities began investigating Herrera after nude photos of Jennifer Lawrence and dozens of other celebrities were hacked from their Apple devices. Investigators have not found any evidence linking Herrera to the leaks or showing that he shared the photos or videos he obtained, officials said. Herrera is the third person to be prosecuted as part of the investigation. "
* Man faces 5 years in prison after hacking into 40 celebrity accounts and hundreds of others (Los Angeles Times)
"Playboy responded to backlash against its first transgender Playmate with a series of tweets comparing recent social media reactions to reader letters about its first black Playmate in 1965."
* Playboy Claps Back At Transphobia After Announcing First Trans Playmate (Huffington Post)
In March 1965, we featured Jenny Jackson, our first black Playmate. pic.twitter.com/2zXtQ4EDrd

— Playboy (@Playboy) October 19, 2017
Much gratitude to our thoughtful sponsor, Nubile Films.
"Sex education startup O.school recently raised $800,000 to help achieve its goal of offering up easy access to sex-positive, inclusive and comprehensive education around sex and sexuality. Current investors include Cyan Banister of Founders Fund, X Factor Ventures and The House Fund."
* Startup O.school raises $800,000 to improve sex education (TechCrunch)
"Loveflutter, a Twitter-themed dating app from the UK, doesn't ask me to fill out a personality survey or lengthy About Me (it caps my self-description at a cute 140 characters). Instead, it's paired with the language processing company Receptiviti.ai to compute the compatibility between me and its user base using the contents of our Twitter feeds. Is this good matchmaking or a gimmick? As a sex-crazed neurotic, I think you know where I stand."
* The Future of Online Dating Is Unsexy and Brutally Effective (Gizmodo)
Main post image via: Cleo Cwiek photographed by Miles Aldridge for Numéro Art #1, Fall & Winter 2017 (Portraits Of Girls)
The post Sex News: Patreon, Scoble, Toback, Terry Richardson, Asia Argento, and AI-assisted dating appeared first on Violet Blue ® | Open Source Sex.