We are avoiding beaches and public pools right now, given the ongoing coronavirus infection rate, but that doesn't mean we aren't thinking about swimsuits.
Far from it, they are one of the highlights of any summer in Japan.
And to show just how far things have come, we wanted to share with you an image from 1966 (Showa 41), which we spotted shared on Twitter.
It's an advertisement for "beach-ready" ladies in their colorful swimsuits. "Which is your pattern?" the main copy asks.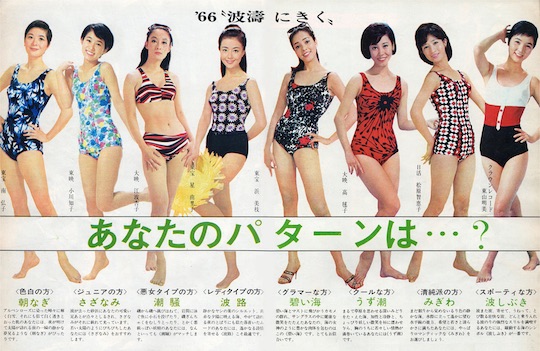 All the women model different styles of swimwear, each aimed at a respective kind of personality (from the "white skin" type to the "junior type" or "bad girl type," and so on). The eight women are actresses contracted to the major studios at the time (Toho, Nikkatsu, etc.) — this being a time when the studio system was still strong in Japan, though the rise of pink eiga soft-core porn and the New Wave of independent filmmakers was undermining it. The women on the far right, Akemi Higashiyama, is credited as Crown Records because she is also a singer.
Just think, these ladies are in their seventies today!
By way of comparison, here is a fairly typical style of swimsuit as worn by a cute gravure idol, Sakura Otawa (太田和さくら).