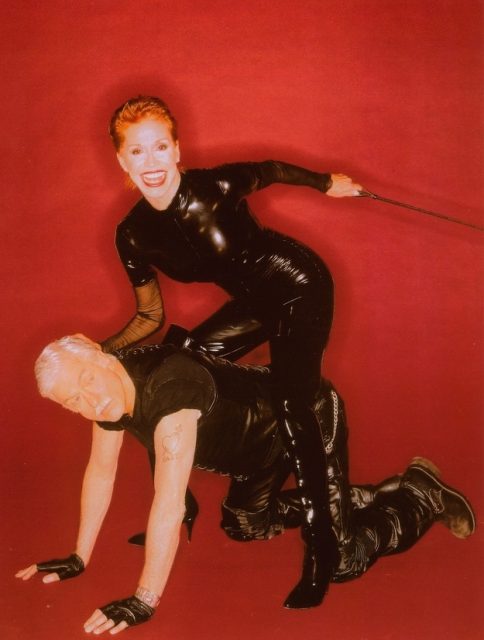 "Forthcoming internet legislation will enshrine the rights of internet providers to block pornography websites into law, bypassing EU rules that prevent online content being filtered. The move, which is part of a wider crackdown on online porn, represent a threat to EU "net neutrality" laws that protect a free and open internet."
* Porn blocking legislation to cement internet filtering in UK law (Telegraph UK)
"While the Women's March certainly made a splash in the media, Pornhub reveals it wasn't all that great for porn traffic. According to the numbers, the website saw an eight-percent decrease in traffic throughout the US compared to an average Saturday – and the adult content heavyweight speculates the Women's March was to blame."
* Pornhub reveals the Women's March caused serious drops in porn traffic (The Next Web)
"Many of the same guys who can maintain an erection in any of the extreme, nutty scenarios of traditional mainstream porn — while standing in a freezing-cold swimming pool, perched on top of a rock in the middle of a baking desert — cannot get it up, and keep it up, when it comes to virtual reality. These men, whose careers rely on their ability to get an erection on command, are finding that the much-hyped future of porn is, well, kind of a boner-killer."
* VR Porn Has Male Performers Coming Up Short (Voactiv)
"3D-printing technology is letting blind students experience comprehensive, accessible sex ed for the first time ever. Advocates and researchers collaborated to create more than 18 3D figures that model sex organs during a various states of arousal. They range from a flaccid penis to a dilated vaginal opening, allowing students to "feel" their way though sexual health lessons."
* 3D-printed sex organs help blind students learn about sexual health (Mashable)
Find this post helpful? Support its creation on my Patreon page.
"Working two jobs while being a full-time student was too much for me. By contrast, sex work allowed me to support myself financially, so I could focus on attaining the grades to get me into post-secondary education. … When I entered the sex trade, one of the first things I noticed was the way doctors and nurses would treat me."
* No, Nurse, My Health Issues Aren't All Rooted in My Sex Work (The Development Set)
"Global research house Capital Economics says American consumers may have to pay up to 10% more for Chinese-made goods if tariffs were imposed. Those goods include things like your laptop, refrigerator and mobile phone."
* iPhones and sex toys may cost more if there's a US-China trade war (BBC News)
"Currently, in South Carolina, the legislature is considering a bill called the Human Trafficking Prevention Act, which would effectively require manufacturers and retailers of personal computing devices sold in the state to have a blocker of "obscenity" installed on such devices. … On its face, the South Carolina bill might sound benign, but the reality is that it would be a massive impingement on our right, as citizens, to free speech."
* Defending Access to Porn (Sex Tech law)
"The E4 show, which premiered a decade ago today, made Britain's teenage parties look sexy, sweaty, and confident in a way TV had never really attempted before, let alone succeeded in doing. … Naturally, out of that first season came the phenomenon of "Skins parties"—house parties that aspired to be every bit as nasty as those on the show and in its ads: an American Apparel look-book made flesh, with just as much nudity, lots more vodka, and a fist full of pills."
* How a Show About Sex, Drugs, and Teens Changed British Culture (Vice)
Much gratitude to our thoughtful sponsor, Nubile Films.
"The reason for this seemingly random erectile distinction was unclear until last month, when an evolutionary study was released by Matilda Brindle and Christopher Opie of University College, London. They analyzed anatomy and mating practices of thousands of mammals and determined that humans lost their baculum due to a penchant for fast fucking and relatively little competition."
* Here's Why Your Boner Is Boneless (Mel Magazine)
"Once the robo-cock is switched on and his two-week erection dies down, Wardle will be able to have sex with his girlfriend, Fedra Fabian, for the first time. She revealed on the show that the two had been dating for nine months before she found out about his condition and she read about it in the newspaper."
* Man with Bionic Penis Must Endure Two-Week Erection to Finally Use It (Vice)
Main post image: Best friends Mary Tyler Moore and Dick Van Dyke photographed by Annie Leibovitz for Vanity Fair (1995), via Buzzfeed.
The post Sex News: UK to violate net neutrality, porn traffic drop for Women's March, VR porn's boner problem appeared first on Violet Blue ® | Open Source Sex.
More Amateur wife XXX videos