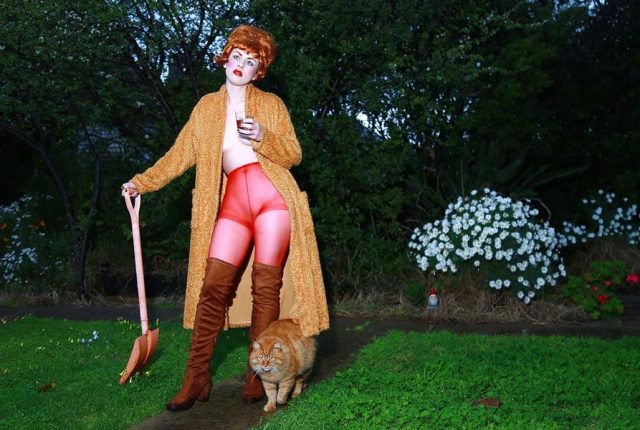 Buzzfeed started a censorship panic Friday about Twitter's adult content guidelines by mistaking Twitter's ad policy for its general policy. "Several outlets are reporting on this update as if it's a sweeping "ban" on porn (Buzzfeed updated its article on the guidelines but didn't remove the incorrect tweet). But Twitter isn't banning porn — rather, it says it's making its policies more robust around revenge porn and sending images of non-consensual nudity (dick pics in your DMs), with specific examples of what is and isn't considered "sensitive" material."
* Porn Is Still Allowed On Twitter (Motherboard)
"Free Speech Coalition, the national trade association for the adult entertainment industry, is officially rescinding an award granted by the organization to Ron Jeremy in 2009. … "We have now heard multiple accounts, both publicly and in confidence, from upset, angry performers about encounters with Ron Jeremy that ranged from groping to assault," said Eric Paul Leue. "In an interview following the allegations, Jeremy dismissed the accounts or made excuses. We can not honor someone who refuses to take his colleagues' right to consent seriously.""
* FSC Rescinds 2009 Award Granted to Ron Jeremy (Free Speech Coalition)
"Since 2011, a replica of [porn star Asa] Akira's labia and vaginal canal has been available from Fleshlight, but now an exact replica of her entire body can be purchased from Abyss Creations. Though the company has lofty plans for dolls that speak and learn — dolls the company's CEO says will cost around $15,000 — their Wicked RealDolls are currently their most expensive product. All the Wicked RealDolls are based on porn performers, and Akira's doll gets top billing on the site."
* This Company Makes Perfect Porn Star Replicas into Pricey Sex Dolls (Inverse)
"When deployed among strangers, the teabag is obnoxious at best and sexual harassment at worst. In those moments, the teabag feels like a sexual humiliation ritual. The fact that it's forced upon corpses adds a new level of grisliness. Teabagging among pro players could be seen as a teabag among friends, but the audience's presence adds pressure to be cool with a form of taunting that's actually pretty weird."
* The Ups And Downs Of Teabagging In Pro Gaming (Kotaku)
Find this post interesting? Support its creation on my Patreon page.
Do what now pic.twitter.com/y7HrOCa2r4

— Personal Beavis (@red_mercer) October 31, 2017
"Kevin Spacey made the set of Netflix's "House of Cards" into a "toxic" work environment through a pattern of sexual harassment, eight people who currently work on the show or worked on it in the past tell CNN. One former employee told CNN that Spacey sexually assaulted him."
* Seven Men Have Now Accused Kevin Spacey Of Sexually Harassing Or Assaulting Them (Digg)
"The recent attempt by Conservative MPs to label porn a public health crisis in Canada is part of a web of attacks against gender and sexual minorities — and a diversion from necessary policy debates on ending sexual violence. Luckily, the House of Commons Standing Committee on Health didn't go for it."
* Porn not to blame for public health issues (The Conversation)
" Egyptian authorities in Cairo are luring gay men to hotel rooms using dating app Grindr and then arresting them, as an obsession with "penetration" and a violent crackdown on sexual minorities continues."
* Entrapment by app: how Egypt is cracking down on sexual 'deviancy' (The Age)
"Over $60,000 worth of dildos, butt plugs and vibrators were stolen from an erotica convention last week in what's being described as the biggest sex-toy heist in history."
* $60,000 Worth Of Dildos, Butt Plugs, Stolen In Massive Heist (NewNowNext)
Much gratitude to our thoughtful sponsor, Nubile Films.
Porn is a convenient excuse for those too lazy to find out the real answers to societies problems

— UK Adult Producers (@UKAPHQ) November 2, 2017
"Regular marijuana users have about 20 percent more sex than abstainers, according to a new study from researchers at Stanford University. The study analyzed data on 28,000 female and 23,000 male participants in the National Survey of Family Growth, a nationally representative CDC survey of Americans age 15 to 49. It found that women who smoked marijuana daily had sex with a male partner an average of 7.1 times per month, compared to 6 times per month for nonsmoking women."
* Marijuana users have more sex, researchers find (Washington Post)
"Energy Secretary Rick Perry suggested on Thursday that increasing fossil fuel use to spread electricity across Africa would help prevent sexual assaults there. … "When the lights are on, when you have light that shines — the righteousness, if you will — on those types of acts," he told an Axios event."
* Perry: Fossil fuels help prevent sexual assault in Africa (Politico)
Main post image via Rachel Mia: Real friends help you bury your dead (Sticks and Stones Mothership)
The post Sex News: Twitter's porn stance, Ron Jeremy and Kevin Spacey, sex toy heist, Rick Perry on preventing sexual assault appeared first on Violet Blue ® | Open Source Sex.
More Amateur wife XXX videos