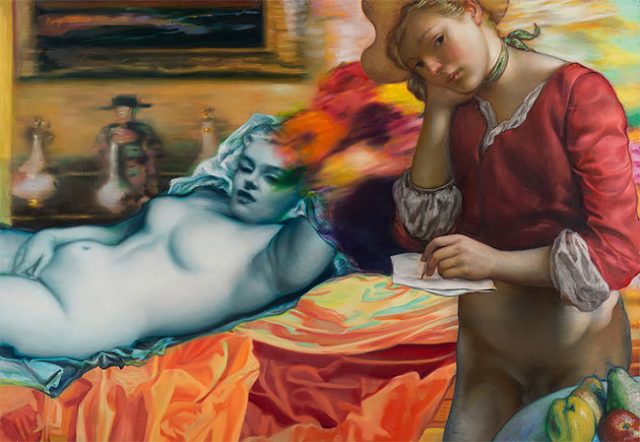 "The porn star who was paid hush money to stay silent about a sexual tryst she says she had with President Trump [was] honored with an official Stormy Daniels Day in West Hollywood and given a key to the city on Wednesday."
* On 'Stormy Daniels Day,' West Hollywood to honor porn star with key to the city (LA Times)
"The feds want to seize what they say is the sex den of upstate Nxivm cult leader Keith Raniere and a home where his sidekick, "Smallville" actress Allison Mack, housed one of his "slaves," according to new court documents."
* Feds want to seize Nxivm leader's alleged sex den (NY Post)
"New York's MTA recently banned subway ads for a line of female sex toys but, after online cajoling, reversed its decision."
* New York MTA Gives Thumbs Up to Sex Toy Ads (XBIZ)
"In a move that increases the likelihood Harvey Weinstein will face criminal charges, federal prosecutors in New York have opened an investigation into whether the disgraced Hollywood producer's alleged acts of sexual abuse violated federal laws, according to two people familiar with the matter."
* Federal prosecutors conduct sex crimes investigation into Harvey Weinstein (LA Times)
Find this post interesting? Support its creation on my Patreon page.
"At the time, Brett [Rossi]'s allegations weren't taken seriously by the media or the public. Instead, it became a battle of he said, she said. Although [Charlie] Sheen already had already been accused of abusing women in the past, it was Brett's credibility that was called into question. Why? Because she works in the sex industry."
* Brett Rossi on How Her Porn Career Was Used to Discredit Her Abuse Allegations (Broadly/Vice)
"A couple weeks ago, I shared this article with you about the blackness gap in sex tech. In an effort to move the sex tech community a more diversity and safe space for everyone, I now bring to you some commonly used terms and definitions when discussing inclusivity."
* 6 Inclusive Sex Tech Definitions That Can Help Bust the Blackness Gap (Future of Sex)
"Substantially all of Penthouse's assets are included in the sale — intellectual property, videos, publications, broadcasting and digital rights."
* Penthouse's Assets to Be Sold at Auction (XBIZ)
"Last year, the Dutch designer Nienke Helder created a range of objects to help survivors reprogramme how they deal with physical sensations … Her collection, titled Sexual Healing, includes a horsehair brush to explore touch and tickling, a mirror designed to help you better view your vulva, as well as a pelvic device that vibrates when your muscles are too tense, and a bean-shaped sensor that lights up if you're breathing too fast, to remind you to slow down and relax. "By getting biofeedback through the tools, you can visualise what kind of processes are happening inside your body, which can help you understand in which situations your body reacts with a reflex.""
* How sex toys are being redesigned to help survivors of sexual assault (Guardian)
Much gratitude to our thoughtful sponsor, Nubile Films.
We've listed over 150 companies or distinct products (like PayPal) that discriminate against or outright ban sex workers (or adult products, even contraceptives), or have been closed following SESTA.

Who benefits when sex is removed from the internet?https://t.co/rnpWYSAX1X

— Liara Roux (@LiaraRoux) May 12, 2018
" As the program became more firmly rooted within the legal system, with undercover agents from ASHA (American Social Hygiene Association) acting as its enforcers, a stark reality became apparent: Any woman, at any time, could legally be arrested, sexually assaulted, and hauled off to jail with no trial, no lawyer, and no idea when she'd be released. Those who were imprisoned in detention hospitals were subjected to involuntary medical examinations, inhumane living conditions, and treatments for gonorrhea and syphilis. Unfortunately, at that point, the most common "cure" for these diseases was a strict regimen of continuous doses of mercury and arsenic, toxic chemicals which poisoned these women's bodies while doing absolutely nothing to cure their ills."
* A Forgotten War on Women (New Republic)
"Recognizing that they can add a lot to our conversations around consent, many sex workers have taken it upon themselves to teach consent in their sex work practices. Ginger Banks, who has been a sex worker for eight years, told me, "After learning more about consent [as a sex worker] I see so many different ways that we violate it, possibly [unintentionally] … This is why I try and integrate the consent into my films, compared to just having it done just off camera. This way I can teach people about consent while they watch my films.""
* Want to figure out the rules of sexual consent? Ask sex workers. (Washington Post)
"Jersey City may say "ta ta" to its ban on women going topless in public. The City Council next week is expected to hear a revision of the city's 36-year-old obscenity law, which bans women from exposing their breasts in public spaces. Supporters say the new version of the law, which was sparked by the city's attempt to shut down a show by a local burlesque performer, is more in step with the 21st Century."
* N.J. city's '80s-era topless ban, sex toy restrictions may be history (NJ News)
"From the beginning of this case, Judge Baylson has focused heavily on how best to prevent child pornography, a concern shared by all the litigants, including the FSC, and the government. However, in yesterday's ruling, the court recognized that the legal adult industry was entirely separate from the illegal production of child pornography, and that the record-keeping requirements designed for the former were not narrowly tailored, and had significant downsides."
* 2257 Judge Hands Big Win for Adult, Seeks Decree (XBIZ)
Main post image: painting by Jamie Adams, via Design You Trust.
The post Sex News: Stormy Daniels honored by LA, Weinstein under federal investigation, blackness gap in sex tech appeared first on Violet Blue ® | Open Source Sex.
More Amateur wife XXX videos