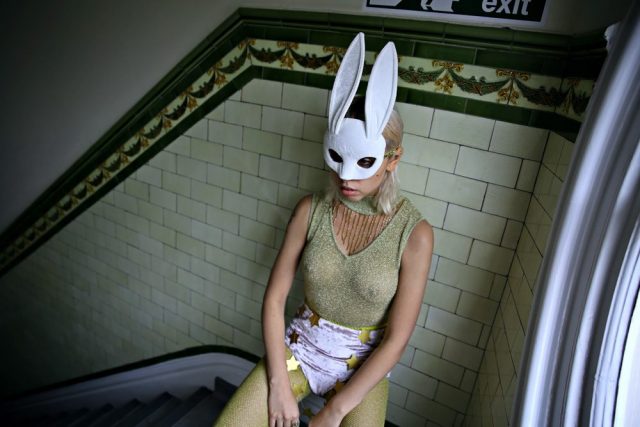 "One week ago, the worst possible legislation curtailing free speech online passed and sex censorship bill FOSTA-SESTA is on its way to be signed into law by Trump. Hours after the announcement, everything from the mere discussion of sex work to client screening and safe advertising networks began getting systematically erased from the open internet. Thousands — if not hundreds of thousands — of women, LGBTQ people, gay men, immigrants, and a significant number of people of color lost their income."
* Congress just legalized sex censorship: What to know (Engadget)
"A proposal that would have required a filter for online pornography that could be lifted with a $20 fee was withdrawn Tuesday by a Rhode Island lawmaker who cited the "dubious origins" of the measure. Sen. Frank Ciccone said he pulled the bill after The Associated Press reported Monday that the legislation had been pushed around the country by a man with a history of outlandish lawsuits including trying to marry his computer as a statement against gay marriage."
* Lawmaker withdraws anti-porn bill, citing 'dubious origins' (Washington Post)
"Playboy issued a press release late Tuesday night to announce its withdrawal from Facebook. It has deactivated the Playboy accounts that Playboy Enterprises manages, directly affecting some 25 million fans, according to the company."
* Playboy deletes its Facebook accounts (Verge)
"A man in the UK has caught the world's "worst-ever" case of super-gonorrhoea. He had a regular partner in the UK, but picked up the superbug after a sexual encounter with a woman in South East Asia. Public Health England says it is the first time the infection cannot be cured with first choice antibiotics."
* Man has 'world's worst' super-gonorrhoea (BBC)
Find this post interesting? Support its creation on my Patreon page.
Designed an eye-catching info sheet of the amazing info that @MaxineHolloway posted about what our allies can do to support the opposition to FOSTA/SESTA — please repost! #letussurvive #FOSTA #SESTA https://t.co/1PA7QXM7hf pic.twitter.com/XyH8u9Q4v7

— Tamara Rosette ✨ (@TamaraRosette) April 1, 2018
"A Massachusetts woman has filed a federal lawsuit accusing her tenant of using her Martha's Vineyard home to shoot pornographic videos without telling her. Bassett says the filmmakers used "nearly every room of her home for their porn production purposes," including her bedrooms, sofas, dining room table and laundry room appliances."
* Massachusetts woman files lawsuit accusing tenant of shooting porn in her home (CBS News)
"If you haven't seen it, Karley Sciortino, the writer of the Slutever blog and a regular for Vogue magazine, has a Vice TV video documentary series (also called Slutever). … At Heliosphere we had a screening of the whole 6 minute segment at the reading and Vice did a fantastic job of capturing why so many of us find writing erotica about monsters empowering."
* Viceland TV's "Slutever" Talks to Erotica Writers about "Women & Monsters" (Cecilia Tan)
See also: We Met the People Who Fantasize About Monsters (Vice)
"Walmart stores will no longer feature Cosmopolitan in its checkout lines … In a press release by the National Center on Sexual Exploitation (NCOSE) featuring the news, executive director Dawn Hawkins states, "This is what real change looks like in our #MeToo culture, and NCOSE is proud to work with a major corporation like Walmart to combat sexually exploitative influences in our society.""
* Why Walmart Is Removing Cosmo From Checkout Lines (The Cut)
See also: FSC Blasts Walmart's Decision to Remove Cosmopolitan From Checkout Aisles (XBIZ)
Warning for survivors of sexual abuse and trauma. "Authorities caught up with the alleged fugitive self-help guru behind the walls of a luxury gated community near Puerto Vallarta, Mexico. … Keith Raniere — known to his followers across the world as the Vanguard — was living inside one of the properties with several women, according to federal prosecutors. … [He used] a mix of New Age jargon and Ayn Randian self-determination. But according to federal authorities, Raniere used his position of power to lock women into a bizarre master-slave relationship."
* Feds say self-help guru coerced followers into sex, had them branded with a cauterizing pen (Washington Post)
See also: Expecting arrest, Allison Mack website shows adoration of sex cult leader Raniere (Artvoice)
Much gratitude to our thoughtful sponsor, Nubile Films.
"Eventually, I learned to weed out what I'd call the "client" types—men so engrossed in themselves that my presence barely registered. Men who'd choose a bar as our first or second date, even though I'm sober. Men who talked on and on about their novels, never asking what I did for work. I stopped giving time to just anyone and held out for men I actually found interesting."
* What Being a Sex Worker Taught Me About Men (Vice)
"One man, however, holds the distinction of having not one, not two, but three games banned by Twitch. The first, Cobra Club, is an interrogation of surveillance culture framed as a game about taking dick pics. The second, Rinse and Repeat, is about showering with hunks. And the third, Radiator 2, features a man languidly sucking a popsicle …"
* The Renegade Game Designer Who Aims to Challenge the Industry's Attitudes Toward Sex (Mel Magazine)
"Stormy Daniels today was denied by a federal judge in her motion seeking to depose President Trump and lawyer Michael Cohen in the case over the adult superstar's NDA."
* Stormy Daniels' Bid to Depose Trump Is Denied (XBIZ)
"… One such app is SophieBOT, created by students at Kenya's Jomo Kenyatta University of Agriculture and Technology in 2016, and hailed as the "Siri" for sexual and reproductive health information."
* SophieBOT Project Hopes to Be the "Siri" of Sex Education in Kenya (Future of Sex)
Main post image via Silvija Gec 'House rules' (Sticks and Stones Agency).
The post Sex News: Sex censorship ramps up, anti-porn bill withdrawn, Playboy quits Facebook, Slutever does monsters appeared first on Violet Blue ® | Open Source Sex.
More Amateur wife XXX videos