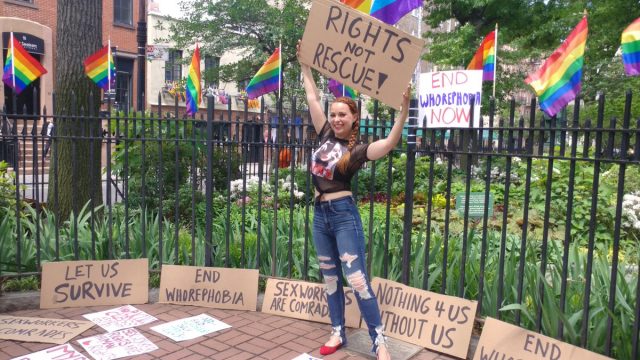 I'm back after taking a short break; I got depressed for a minute after SESTA-FOSTA passed and had to regroup. Above image: Becky Berardi of The BadAss Becky Show, via Twitter.
"On Thursday, the Electronic Frontier Foundation filed a lawsuit against the federal government and Attorney General Jeff Sessions. Woodhull Freedom Foundation et al. v. United States is the first lawsuit to challenge SESTA-FOSTA (…) EFF argues that SESTA-FOSTA violates the First and Fifth Amendments [and] it is "the most broadly-based and comprehensive legislative censorship of Internet speech since Congress passed the anti-indecency provisions of the [Communications Decency Act] in 1996." The Supreme Court found those provisions unconstitutional in 1997."
* Sex-Worker Advocates Sue Over Internet Censorship Law (Rolling Stone)
More: Woodhull Freedom Foundation Lawsuit Challenges FOSTA (XBIZ)
"It's likely that, as well as the moral indignation of the major banks, the FOSTA/SESTA legislation has worked to encourage crackdowns. The legislation, which is designed to ban sex work under the guise of limiting human trafficking, has had a chilling effect on the internet."
* Patreon's pornapocalypse has been un-cancelled (Engadget)
See also: Alternatives to Patreon for porn creators (Ms. Naughty)
Background: PayPal, Square and big banking's war on the sex industry (Engadget)
"[Weinstein] is already facing first-degree rape and other charges involving incidents with two women, in 2004 and 2013. Now, a grand jury in New York has charged Weinstein with allegedly committing a forcible sexual act against a third … [with] a minimum sentence of 10 years and a maximum sentence of life imprisonment."
* New Charges Filed Against Harvey Weinstein Involving A Third Woman (NPR)
Warning for survivors of sexual assault and abuse. "Adult film actor Ron Jeremy is being sued for allegedly sexually assaulting a woman during a radio promotional event last year in Washington state. Kristin Brodie claims that Jeremy, 65, assaulted her four separate times on Sept. 22, 2017, while she was working as a model for a Seattle radio station at a store event in Tacoma, according to court documents."
* Porn Star Ron Jeremy Sued For Multiple Sexual Assaults (Huffington Post)
Find this post interesting? Support its creation on my Patreon page.
"A mysterious device described by local media as able "to detect deleted or current pornographic materials stored on people's computers," it was first promised by Ugandan authorities in 2016. … Authorities have never explained how the device — said by the Observer to cost $88,000 — would work. Lokodo told Bloomberg in a phone interview this month that the detector recently arrived, describing it only as a "server" that's "able to suppress pornographic material.""
* Porn Detectors, Facebook Tax: Uganda Tightens Grip on Internet (Bloomberg)
"The thriving erotic-gaming industry that originated in Japan is now going global. Backed by porn giant MindGeek (owner of Pornhub, YouPorn, RedTube, et al.), Nutaku has (…) 10 million registered users—40 percent of whom play daily …"
* Gaming Gets X-Rated–and Very Profitable (Wired)
"The Chinese government's anti-pornography office announced earlier this month that video streaming services in the nation need to "thoroughly clean up vulgar and pornographic ASMR content." And while the agency called for a crackdown specifically on content that is "vulgar" or sexual in nature, many of China's leading video hosting sites have scrubbed all ASMR videos."
* China's Anti-Porn Task Force Is Banning ASMR Videos (Gizmodo)
"Many of the former staffers and community members say OneTaste resembled a kind of prostitution ring — one that exploited trauma victims and others searching for healing. In their experience, the company used flirtation and sex to lure emotionally vulnerable targets. It taught employees to work for free or cheap to show devotion. And managers frequently ordered staffers to have sex or OM with each other or with customers. Such mandates led to a six-figure out-of-court settlement in 2015 with a former employee who said she suffered sexual assault and harassment, as well as other labor violations, while on the job. That settlement hasn't been reported until now because it was confidential."
* The Dark Side of the Orgasmic Meditation Company (Bloomberg)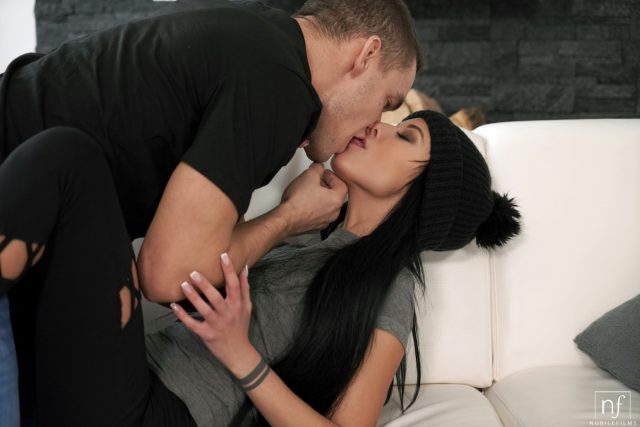 Much gratitude to our sublime sponsor, Nubile Films.
"Signs at Saturday's protest offered messages like "My Life Is Not Your Porn" and "Wanna shit with my guard down." Protestors wore red as a sign of their anger, shaved their heads to object their government's failures, and covered their faces to avoid being identified and sexually harassed online … Outrage over the government's failure to prosecute men who non-consensually collect and distribute intimate video footage of women came to a height last month when a 25-year-old woman in Seoul was arrested for uploading a nude photo of a male model without his consent. "
* Thousands of Women Take to the Streets as South Korea Confronts Spycam Porn (Gizmodo)
"On an otherwise normal Friday afternoon in late March, I found myself sitting on my bed, completely naked in front of my laptop. It was a position I'd been in many times before, but today was different: I was getting ready for the most awkward tech demo of my career."
* Teledildonics gave me the gift of long-distance sex with a stranger (Engadget)
The post Sex News: Lawsuit challenges SESTA-FOSTA, Uganda's porn detector, China bans ASMR, Weinstein faces life appeared first on Violet Blue ® | Open Source Sex.
More Amateur wife XXX videos