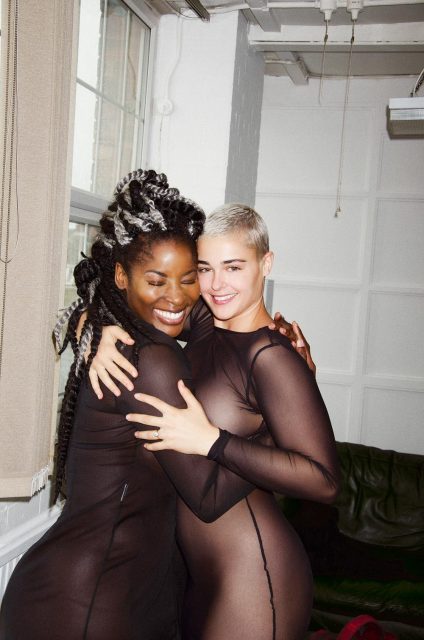 "[Instagram is] stepping onto the slippery slope to censorship, worrying artists, people with disabilities, consensual sex workers, and those who are in various ways body- and sex-positive … the company said this week that its algorithm would demote content that does not violate Instagram's community standards, but is considered "inappropriate" or "borderline."" XBIZ calls it "a massive step backwards for freedom of expression in the online world."
* Instagram will demote "inappropriate content"—and self-expression along the way (Quartz)
Another day another institution policing women's bodies

— Emily Sears (@emilysears) April 12, 2019
"VR Bangers' Head Rig 2.0: which, when worn by adult entertainers, would record a full range of vision while not getting in the way of the erotic action. With seven, and not just two, cameras plus microphones, the helmet can be comfortably worn in just about every sexual position."
* Take a Peak at the VRBangers 'Sex Helmet' Worn by Adult Stars (Future of Sex)
"[despite objection from the country's sex workers] a social media campaign called "I Am Priceless" pushed a petition that passed the 40,000 signatures needed to launch a debate by lawmakers in the Dutch Parliament … "The mood has changed. Buying sex is just wrong," said Natasja Bos, one of two co-founders of the Christian and feminist-inspired protest group Exxpose, which put forward the petition."
* Prostitution coming under scrutiny in Amsterdam, red-light capital of the world (ABC News)
"A man now living in Indiana is suing his parents after he says they destroyed his valuable porn collection … Charlie says his parents told him that they destroyed the entire collection. A collection that consisted of over 12 moving boxes full of movies. Charlie filed a police report estimating the value of his collection to be $28,940.72."
* Man sues parents over trashed porn collection (Fox 17)
Find this post interesting? Support its creation on my Patreon page.
"Artist Joey Holder has spent the last four years working on The Evolution of the Spermaledge, a project that focuses on the reproductive organs of insects. Using detailed 3D scans and microtechnology, she makes useable, human-scale dildos out of tiny insect penis templates. There are numerous featured invertebrate penises, including those of bed mites, weevils, houseflies and spiders. Specially cast in silvery, skin-safe silicone, the dildos are something to behold. "
* I Make Dildos Out of Insect Penises (Vice)
"We're told that censorship is good and porn is bad, but what about the porn performers caught in the crossfire of this hugely oversimplified narrative? … "I was coming out as queer and non-monogamous too; some of my family saw this trifecta as a callous rebellion or a temporary phase. My mother wept and insisted I was putting myself in danger, but she could never articulate the 'danger'." —Andre Shakti"
* Five Adult Film Performers Share Their 'Coming Out' Stories (Vice)
"However, when I spoke with a clerk at the Cambridge County Courthouse, he pointed out that Aras' court records showed an alternative spelling of Aras' first name—not Vido but Vito. This slight alteration pushed my research into a different—almost unbelievably different—realm. Not only did a Vito Aras exist, but in the early '70s he had pursued a short-lived—but quite noteworthy—career as a porn star under the stage name "Dr. Infinity." Could this be the same guy who tried to steal the Gutenberg Bible?"
* He Stole the Gutenberg Bible, Then Became Porn's Weirdest Star (Daily Beast)
"An intriguing element in the research on porn's effect involves examining whether the viewers see the depictions of sex in adult videos as realistic or not. When people view porn as more realistic, they are more likely to view porn as having positive effects. In men, this belief in porn's positive effects correlates with higher sexual self-esteem. In women, higher levels of genital self-esteem correlate with higher levels of sexual self-esteem, and with higher levels of sexual satisfaction."
* Loving Oneself by Watching Porn? (Psychology Today)
Much gratitude to our thoughtful sponsor, Nubile Films.
""What's important now is social media engagement—a lot of girls get hired or don't get hired by how many followers they have," says porn super-agent Mark Spiegler. "Instagram is really big. That's one of the pitfalls because Instagram has it out for adult performers.""
* How Much Money Do Porn Stars Actually Get Paid for Sex Scenes? (Yahoo News)
"There was the lawmaker in Idaho who asked at a legislative hearing whether a woman could get a gynecological exam by swallowing a tiny camera. (No more than a dentist can do her job by looking at your feet.) … And, of course, this infamous observation from Todd Akin, then a Missouri congressman: "If it's a legitimate rape, the female body has ways to try to shut that whole thing down." (Where even to begin?)"
* America's Leaders Need Sex Ed (NYT)
Main post image: real-life couple in Ride or Die (Sticks and Stones Agency)
---
Content copyright © 2013 Violet Blue ® (R) permitted for use on tinynibbles.com only.
This tinynibbles.com feed is for personal, non-commercial use only and is held within federally registered trademark Violet Blue® (R).
The use of this feed on any website other than Violet Blue's Tiny Nibbles: Open Source Sex breaches copyright, violates U.S. Federal Trademark law, and the Federal Trademark Dilution Act. If this content is not in your news reader, it makes the page you are viewing copyright infringement, theft and trademark violation.
The post Sex News: Instagram embraces censorship, VR porn head cameras, Christian feminists target Amsterdam, research on porn's positive effects appeared first on Violet Blue ® | Open Source Sex.
More Amateur wife XXX videos