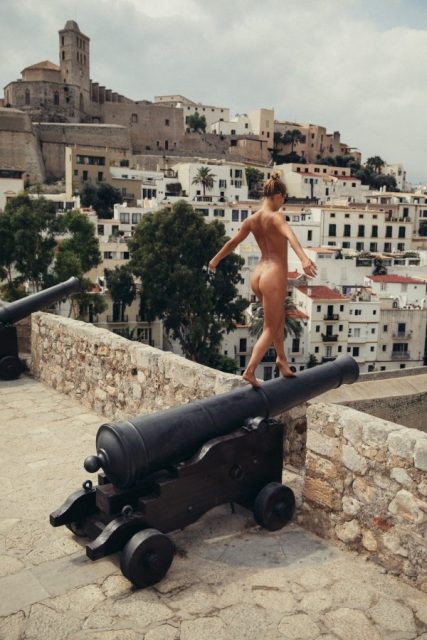 Quick note: I recently had a run-in with Amazon Associates over my 16-year-old account, which was thankfully resolved, and you can read what I discovered about their policies (including nudity and sexual content) here.
"A new Idaho state law [requiring filters on] public internet access in libraries and an Iowa court case restricting access to media in prisons are the latest examples of an ongoing campaign by some local politicians to eliminate free speech protections of depictions of nudity and sex in order to fight what they are calling "the public health crisis of pornography.""
* Idaho, Iowa Politicians Ramp Up 'War on Porn' (XBIZ)
"Sex workers in the UK are being illegally targeted for deportations and subjected to harassment and attacks because of a Brexit-inspired culture of discrimination against foreigners… A dossier compiled by the campaign group English Collective of Prostitutes (ECP) includes examples of women being targeted by police for arrest and deportation despite having the right to remain in Britain, and police dismissing reports of violence against women."
* Sex workers harassed, assaulted and illegally targeted for deportations amid culture of xenophobia after Brexit, campaigners say (Independent)
"Most of the people we interviewed learned that selling panties isn't as simple as popping them in the mail and sending them off. "When I first started I wore the panties and sealed them up. I didn't know you had to dry them out first before you packaged them, otherwise they would get mildew-y," Berpl said. She went on to explain that they have to be dry, "otherwise all of the bacteria that is on your body gets trapped in the packaging.""
* Selling Used Panties Online Is Harder Than You Think (Motherboard)
"I'd like to give a shout-out to some people in the industry who've undertaken positive actions … Lotus Lane of the Free Speech Coalition launched the Inspire Program… Katy Jayne started an Independent Female Talent bulletin board. Inspired by Katy Jayne, new forums for independent performers were added on TheAdultDVDTalk …"
* Dear industry friends and family (Medium | Fivestar)
Find this post interesting? Support its creation on my Patreon page.
CINEKINK announces its 2019 winners! Congrats to @jenniferlyonb @ShineLouise @SparkErotic @ArtistNPervert @msnaughty @urbantantrika & more! @CineKink https://t.co/AH1cbhQDQg

— PinkLabel.TV (@PinkLabelTV) April 8, 2019
"For some, it's personal. For others, it's political. But the one motivation that drives nearly every sextech VC is the exploding market in sexual wellness… But given the funding issues faced by sextech companies, a more important issue might be the motivation of the investors themselves. Because whether its vibrator design or contraceptive delivery or educational platforms, no sextech company can change the world without funding."
* 12 Leading Investors Explain Why They're Funding Sextech (Forbes)
"Amsterdam has moved to end one of the city's most popular tourist activities. The city government has announced that it will end tours of the Red Light District in the Netherlands' capital, citing concerns about people — in this case sex workers — being treated as a tourist attraction. "We do not consider it appropriate for tourists to leer at sex workers," city alderman Udo Kock, who proposed the bill, said in a statement."
* Amsterdam ends popular tours, says leering at sex workers is inappropriate (Mercury News)
"Three Democratic contenders for the 2020 presidential nomination — Sens. Kamala Harris and Bernie Sanders and Rep. Tulsi Gabbard — have weighed in on the rights of sex workers. Harris and Gabbard have said they support the decriminalization of sex work, while Sanders was noncommittal in his response… The Intercept reached out to the other congressional Democrats running for president — Sens. Cory Booker, Kirsten Gillibrand, Amy Klobuchar, Elizabeth Warren, and former Rep. Beto O'Rourke — and got no response."
* The Decriminalization of Sex Work Is Edging Into the 2020 Campaign (The Intercept)
"Tulipán, a leading Argentine condom brand, has launched a limited edition of condoms called "Pack Consentimiento" ("Consent Pack"), in custom-made packaging which can only be opened by two people. Tulipán's goal in launching the product is to raise consciousness about "promoting respect and consent in sexual relationships and to avoid sexual violence" … Pack Consentimiento will be distributed for free at selected Buenos Aires bars and events."
* Argentine Condom "Consent Pack" Can Only Be Opened by Two People (XBIZ)
Much gratitude to our thoughtful sponsor, Nubile Films.
"Some booksellers continued to shelve black romances separately from white romances, on special African American shelves. Accepted industry wisdom told black authors that putting black couples on their covers could hurt sales, and that they should replace them with images of jewellery, or lawn chairs, or flowers. Other authors of colour had struggled to get representation within the genre at all."
* Fifty shades of white: the long fight against racism in romance novels (Guardian)
"Pink & White Productions recently completed a successful crowdfunding campaign for Shine Louise Houston's next film, Chemistry Eases the Pain. In the process, we've received a lot of interest from fellow producers who might be interested in exploring crowdfunding for their next adult film. We hope this guide will help share our experiences and prepare new campaigns for success."
* Porn Patrons: An Introductory Guide to Crowdfunding for Adult Filmmakers (PinkLabel.TV)
"Scarleteen just celebrated its 20th year in publication, and Corinna argues that it has endured not in spite of being queer-founded, queer-run, and independently funded by a group of about 500 donors, but because of those things."
* "Scarleteen's" 20 Anniversary Proves We Still Need Inclusive Sex Ed (Bitch Media)
"The final episode of Channel 4's show Mums Make Porn aired on 3 April. In the three-part series, a group of five mothers set out to make their own porn film after being horrified at the graphic and often abusive content their children are being exposed to online. During the series, the mums were helped by Swedish erotic filmmaker Erika Lust, who has helped pioneer the feminist pornography movement."
* Mums Make Porn: Adult film director Erika Lust on her experience with the Channel 4 show and thoughts on the UK 'porn ban (Independent)
Tumblr thinks the planet Mars is adult content. pic.twitter.com/HL4OzrrMMV

— Ariel Waldman (@arielwaldman) April 8, 2019
Main post image: Marisa Papen by Thomas Agatz HQ Photo Shoot (itr2010.org)
---
Content copyright © 2013 Violet Blue ® (R) permitted for use on tinynibbles.com only.
This tinynibbles.com feed is for personal, non-commercial use only and is held within federally registered trademark Violet Blue® (R).
The use of this feed on any website other than Violet Blue's Tiny Nibbles: Open Source Sex breaches copyright, violates U.S. Federal Trademark law, and the Federal Trademark Dilution Act. If this content is not in your news reader, it makes the page you are viewing copyright infringement, theft and trademark violation.
The post Sex News: Idaho nudity filters, Brexit culture harms UK sex workers, sextech VC funding, consent condoms, racism in romance appeared first on Violet Blue ® | Open Source Sex.
More Amateur wife XXX videos