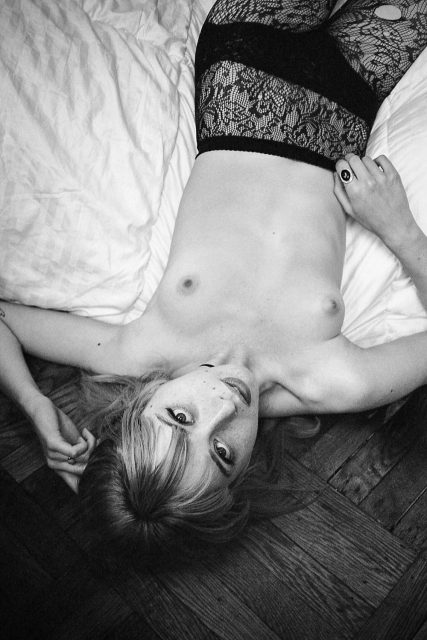 "The GCHQ has already expressed a Chinese-esque plan to create the Great UK firewall, but now the UK, which previously dabbled in porn blocking, wants online age verification services to ensure that people viewing porn are age 18 or over; the dangerous implementation of the system has outraged privacy advocates."
* UK's porn age verification proposal outrages privacy advocates (Computerworld)
"Jessica Drake, an adult film star and sexual health educator, joined the ranks of nearly a dozen other women who have publicly accused Donald Trump of making unwanted, nonconsensual sexual advances. …Donald Trump insinuated he couldn't have assaulted Jessica Drake because it's not as if "she's never been grabbed before.""
* Donald Trump suggested sex workers can't be raped. He's wrong. (Mic)
"In the tortuous mythology of the AIDS epidemic, one legend never seems to die: Patient Zero, aka Gaétan Dugas, a globe-trotting, sexually insatiable French Canadian flight attendant who supposedly picked up H.I.V. in Haiti or Africa and spread it to dozens, even hundreds, of men before his death in 1984. But after a new genetic analysis of stored blood samples, bolstered by some intriguing historical detective work, scientists on Wednesday declared him innocent."
* H.I.V. Arrived in the U.S. Long Before 'Patient Zero' (NYT)
"Scientists have made a breakthrough that could be key to developing a male contraceptive pill. The discovery uses a peptide that changes the way human cells work, "switching off" sperm's ability to swim, to render men temporarily infertile. Scientists hailed the results as "startling — and almost instant." It raises the prospect of a fast-acting pill or a nasal spray that a man could take hours or even minutes before sex."
* 'Almost instant' male birth-control pill — or even nasal spray — is in the works, British scientists say (National Post)
Thanks to our sponsor in Spain, women-run Lust Cinema.
Here is a diagram a Marine drew to explain to another Marine how VPNs work. #InfoSec pic.twitter.com/gfR9AD2tBw

— JC (@JC_SoCal) October 20, 2016
"A BBC investigation has found that thousands of young women in conservative societies across North Africa, the Middle East, and South Asia are being shamed or blackmailed with private and sometimes sexually explicit images. Daniel Silas Adamson looks at how smartphones and social media are colliding head-on with traditional notions of honour and shame."
* Sex, honour, shame and blackmail in an online world (BBC)
Warning for survivors of sexual assault, abuse, and trauma. "She said she and Cook had originally contacted each other via Facebook and gotten together four or five times, always in public. … By Oct. 25, according to a police detective's affidavit quoted by WKOW-TV, dozens of women had come forward '"wanting to speak about … acts related to Cook.' ""
* Dozens come forward in University of Wisconsin sex assault case, 'stalking' list seized (Washington Post)
"That's the mentality that Swedish health minister Gabriel Wikström is championing ahead of a government survey among Swedes on sexual behaviour and attitudes. While a formal fairtrade label for pornography is not being proposed, a more general effort to try to keep a fairtrade perspective in mind is desirable, the minister explained in a statement provided to The Local."
* Will Swedes soon be looking for fairtrade porn? (The Local)
"We think of the striptease as wild and subversive. But while performing at Backstage Bill's in New Haven and Diamonds in Hartford, I discovered the striptease can be just as corporate as that latte you might be drinking. Since the 1990s, corporate-chain strip clubs have steadily taken over more and more of the exotic dance industry: transforming something erotic, exciting, and diverse into another homogenized product."
* America's Strip Clubs Are Going Corporate (Thrillist)
Much gratitude to our thoughtful sponsor, Nubile Films.
"The Swedish Cancer Society was just trying to spread awareness on how to conduct breast exams, but instead it ran afoul of Facebook's censorship laws. The SCS's original video featured illustrated breasts and instructions on how to conduct self-exams. Unfortunately, Facebook didn't think this was an appropriate use of breasts on the social network, so the content was removed."
* Swedish Cancer Society Cleverly Dodges Facebook's Breast Ban (Inverse)
"The two-day December symposium on "sex bots" is set for east London's Goldsmiths University after the second annual event was banned in Asia, it was reported Saturday. The International Congress on Love and Sex with Robots will tackle subjects such as the use of "teledildonics," or cyber sex toys, to human like robots that can achieve orgasm."
* 'Sex bots' conference banned in Asia, moves to London (New York Post)
"Online sex toy distributor SexToy.com was recently selected to join the Google Trusted Stores program, according to its founder, "Sex Toy Dave" Levine. "We have endeavored to raise adult products from its status as risky and X-rated to become viewed as safe with a mainstream acceptance," Levine said. "We are excited about trust from Google as another step in that direction.""
* SexToy.com Receives Google Trusted Store Badge (XBIZ)
"On Thursday the 20th of October, around midnight, police stormed six massage parlours in Soho and Chinatown, making arrests, padlocking doors and nailing up closure notices as part of "Operation Lanhydrock". From their shopfronts, the venues advertised themselves as purveyors of Chinese medicine – acupuncture, herbal remedies, cupping, massage – but all, apparently, offered sex alongside other services."
* Are the Soho Brothel Raids Really About Saving Sex Workers? (Vice)
Main post image via: De-sexualized study of women at home in New York City – "Afternoons" Book release by Danny Lane (C-Heads)
The post Sex News: GCHQ porn spylist, Jessica Drake, AIDS history correction, new male contraception appeared first on Violet Blue ® | Open Source Sex.
More Amateur wife XXX videos