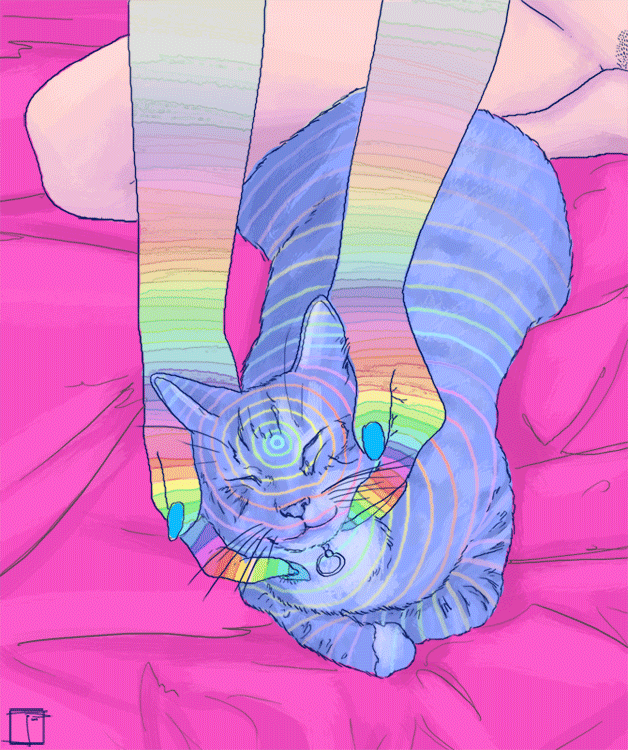 "… several documentary crews were scheduled to shoot at one of the biohacker labs funded by Ascendance. (…) that morning, Traywick locked the webpage manager out of the company website, changed the locks on the Florida lab space, and barricaded himself inside for several hours. Eventually, he piled some of the biohackers' lab equipment outside in front of the lab. (…) There was even a physical wrestling match over the keys for the lab between Traywick and another biohacker at one point. ("It was like watching a scene from Rushmore," Gabriel Licina, who runs the Florida lab, said.)"
* CEO Who Tested DIY Herpes Treatment Locks Himself in Lab as Fellow Biohackers Abandon Him (Gizmodo)
"These consensual sex workers say the most public voices in the #MeToo movement could be doing more to support them, noting that Oprah did not mention them in her acclaimed Golden Globes speech and that their particular issues haven't been raised by the celebrities supporting the Time's Up movement, unlike the issues facing farmworkers, restaurant workers and domestic workers. (Representatives for Oprah and the Time's Up movement did not respond to TIME's requests for comment.) "Not all women are being supported in the #MeToo movement," said Cris Sardina, the director of sex workers' rights organization Desiree Alliance and a sex worker. "It's what type of woman.""
* 'They Don't Want to Include Women Like Me.' Sex Workers Say They're Being Left Out of the #MeToo Movement (TIME)
"In November 2017, a group of students in a Utah State University journalism class were fact-checking articles on sexual assault charges against U.S. Senate candidate Roy Moore. Students universally noted that the only sources in the articles were white men, all of whom seemed to be friends with Moore. The discussion led one student to raise her hand and ask earnestly, "If we can't use the name of survivors in stories, then how do we get their voices into stories? These stories are obviously biased, but as journalists, how do we fix that bias?""
* How to Teach Reporting on Sexual Abuse (MediaShift)
"Over time, Mistress Velvet said she began "doing a lot of theorizing" about the power dynamics of a black woman holding that kind of supremacy over a white cisgender man. She began introducing black feminist theory into her sessions with clients, who've told her their relationship in that space has impacted their behavior outside of it. One client said he noticed he only held the door open for black women. Another, whom Mistress Velvet educated about the systemic oppression of black women, founded a nonprofit to support black mothers on Chicago's South Side."
* Meet The Dominatrix Who Requires The Men Who Hire Her To Read Black Feminist Theory (Huffington Post)
Find this post interesting? Support its creation on my Patreon page.
Here's another for you… #valentinesday pic.twitter.com/Pj0LTHCGGe

— Phoenix Chase (@phoenixchasex) February 13, 2018
"… in front of the Olympic media center and the Alpensia Ski Jumping Center in Pyeongchang, South Korea, there are three very unusual statues. They're called "Bullet Man" and they were installed in Pyeongchang in 2009. According to local media, they're meant to symbolize "the human desire for a cool body, wealth, honor with a concrete image." Well, last week, their unique look caught the attention of Tokyo Sports, which posted a picture of them when the Olympics started."
* There Are Three Giant Penises In Front Of The Olympics Media Village And It's Become A Huge Meme (BuzzFeed)
"In a time where social media is king, vloggers are the new celebrities, and reality TV remains a dominant cultural force, Helix is taking all those trends and running with them. From encouraging social media use among models to casting model boyfriends together, they are marketing not just the sex of its scenes, but the men themselves. They are creating, as Kyle called them in an interview, "personality stars." Rather than create a fantasy, as pornography most often does, Helix is making reality sexy."
* Making Life Sexy: How Helix Studios Is Pivoting From Fantasy to Reality (Into)
"Chelsea Handler and Judd Apatow pissed off a bunch of porn performers on Sunday when they lumped them into their latest tweets about Trump. This being Twitter, though, the porn community was quick to fire back."
* Porn Stars on Celebrities Comparing Them to Child Molesters, Wife Beaters and Russian Hackers (Mel Magazine)
Tumblr is dead. "Previously, Safe Mode was an opt-in feature that users could turn on in their settings. Within the next few weeks, Tumblr will transition Safe Mode into the default mode for everyone."
* Tumblr Is Turning 'Safe Mode' on by Default for Everyone (Motherboard)
Much gratitude to our thoughtful sponsor, Nubile Films.
"Fifty Shades Freed is worse than just a shitty movie about white people fucking with a limp attempt at incorporating BDSM and a stupid plotline about revenge and redemption. No, it's insulting to every single relationship on this planet. It's not just that it's badly made, badly acted, horrifically written and lazily directed. It's that it's actively bad for people. It's a blight on humanity."
* Review: '50 Shades Freed' Is an Ignorant, Poisonous Anti-Feminist Hate Anthem (Pajiba)
"Laura Lee, who campaigned to change the law on paying for sex in Northern Ireland, has died, aged 39. Ms Lee, who lived in Glasgow, was best known as an advocate for sex workers' rights and had worked in the sex industry for 24 years. In October 2016 she was given the go-ahead to challenge a new law making it illegal for men to pay for sex in Northern Ireland. Her solicitor Ciaran Moynagh, described her as a "fearless human rights advocate" and said his team were "committed to continuing her work"."
* Sex workers' rights campaigner dies (BBC)
"A developer associated with private club and hotel operator Soho House has officially purchased a storied San Francisco building for a whopping $65 million. … The San Francisco Business Times originally reported in November that the upscale social club had been scouting for a place to land in San Francisco and was slated to take over the 200,000-square-foot building at 1800 Mission St., a site which has been used as an S&M porn studio and headquarters for the building's owner, Kink.com — an arm of Armory LLC, which bought the building for $14.5 million in 2006."
* Exclusive: Developer associated with Soho House closes on S.F. Armory building for $65M (San Francisco Business Times)
"Weinstein required executive assistants to arrange his sexual encounters, even directing them to "essentially badger women who refused or expressed reluctance," according to the lawsuit. One group of these assistants kept copies of a document known as the "Bible" detailing a list of Weinstein's "friends" and instructions on arranging his "personals," or sexual encounters. Drivers for Weinstein in New York City and Los Angeles were required to keep condoms and erectile dysfunction injections in the car at all times, according to the lawsuit."
* Enabling Harvey Weinstein's sex life was 'condition of employment,' New York attorney general says in lawsuit (Washington Post)
Post art by the amazing Phazed (interview here, Patreon here).
The post Sex News: Biohacker insanity, sex workers omitted from #MeToo, sex abuse and journalism, Tumblr is dead appeared first on Violet Blue ® | Open Source Sex.
More Amateur wife XXX videos