There were way too many funny entries, so enjoy the three excellent winning captions and indulge yourself with the runner-ups… The top three, in order: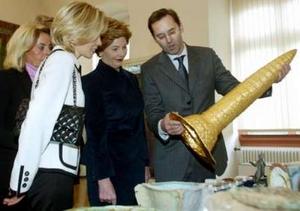 "This was a gift to the President from Jeff Gannon." –Noka, US
"You see, Mrs. Bush, the Exxxtreme 3000 dildo has a
flared base, which was the reason we were able to
extract it from Jenna's loose, cavernous, ass." —Chriso
"… no, Mrs Bush, in fact in this case 'WMD' stands for Weapon of Mass Dilation." At which point Darren said "Oh, I'm sure you know a bigger prick, Mrs Bush," and they all laughed heartily. –Randy Pan the Goat Boy, London
Laura Bush's sloppy seconds:
"After we totally fuck the Earth, this is what we hope
to use to fuck Mars." –Noka, US
"Ma'am, his head has been up there so long that I believe only our hunka-hunka burnin' love size will give him any stimulation whatsoever." –Spacekat
"So we figure that in order to accomplish his mission to fuck the whole
country, we're going to have to have W wear this." —Dan
"Why," Laura mused, "does that thing remind me of Dick Cheney?" –Professor E, CA
"So that's why W didn't want me, Barbara and Jenna to help find those weapons of mass destruction…" –Jean Duke, Washington DC
Congratulations, winners! In tribute to the (Bush regieme's) Attorney General's new promise to crack down on porn, the winners will get mystery porn packages sent by me and will contain all the lubricious promises that a package packed with hours of masturbation can possibly provide, meaning some good porn and some lame porn. Special thanks to pjk for the pic!
The post Caption contest winners appeared first on Violet Blue ® | Open Source Sex.