The smiley girl with the nice nipples in the new free Hegre gallery?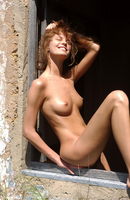 Or the bunny?

Yes, I'm still on the Hegre free galleries affiliate email list; I joined it to research affiliate programs for a users' guide about online porn I have coming out soon. I don't agree with Hegre's recommended link practices, but that doesn't mean you and I can't enjoy the free pictures of really pretty, happy skinny naked girls they keep sending me. (like the tiny tree-hugger; Miss No-carb Lollipop, and this tan line beauty.) I guess you see how I am; a steady diet of fluffy bunnies and naked girls… oh, and liberal applications of naked Viggo Mortensen pics. Yum.
The post Who's cuter? appeared first on Violet Blue ® | Open Source Sex.