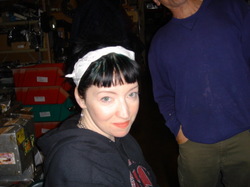 Did you notice anything different about me? Not the hair. Nope, same boobs. That's right — I changed my job. I know, I wanted to stay unemployed for as long as possible, but some sexy Italian guy made me an offer I just couldn't resist. Now, if you go to Fleshbot, you'll see my name on the masthead under Jonno's, as "Assistant Guest Editor!" Wheee!
So — surprise, surprise, my job is to look at (or rather look for) porn all day. Again! Truthfully though, we're going to see how it goes with my schedule and talents, and if all goes well, I might have the "Guest" removed from my title and assume the role of Jonno's right-hand girl in the Fleshbot Empire. Which is not a bad place to be, I'd imagine. His boyfriend is ho-ot!
It's an interesting development for me, seeing as how the rough book deadline/Marching Band/David Byrne experiences last week sort of shook up my perspective. Then, on Sunday I went to the SRL shop, we had a crew meeting about our upcoming show (stay tuned to the SRL website because my lips are sealed), and then I pulled off a BBQ in the rain, in honor of Hunter S. Thompson. Of course, with the SRL crew in attendance the BBQ fire was entertainment for an hour, entertainment that singed someone's eyelashes off (not mine; I know who to stay away from when they have an air hose in one hand and lighter fluid in the other).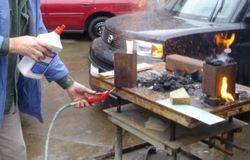 We all watched "The Crazy Never Die" on Mark's big TV, a documentary that the Mitchell Bros. made of Hunter visiting the SRL shop and coming to one of our shows. Mark regaled us with crazy stories of Hunter's mini-bar and pill station he set up in the office (by the couch I sleep on during shows), and how he was so unpredictable, fucked up and crazy that he actually had to be watched pretty closely with the 10-barrel shotgun (duh!) and the hand-held flame thrower. Thompson said some really amazing things in the video about the Regan administration using the book of revelations as some sort of sketchy guide to running the country, and Mark and I each drank a shot of Bushmills to Thompson on that point — that it's just as true for the regime running the country today.
Vale was there, and he slipped me a copy of J. G. Ballard's Quotes (I missed the reading due to Extra Byrne Action), which is a pretty cool thing to have surreptitiously slid into your jacket — from V. Vale, nonetheless. I had woken up that morning really feeling like I didn't have a job; kind of scared. No regular income, no health insurance. Life in a savagely, self-righteously wealthy country, disconnected. At the shop, there was my family — subversives with hugs and kisses, dirty shop monkeys, and most striking of all, I knew where everything was. This may not seem important. But when I needed a small flathead screwdriver to loosen a staple, I walked to one of our big tool chests, opened one of the dozens of drawers — I knew right where to find it. Not like my life at all. Driver, found; me, lost.
I went home and listened to David Byrne music on my iPod. I watched him sing every night for three nights, and every night he sang and played every fucking note with passion, intense passion. His arms were open; you could tell his heart was open to the world when his music came out of him. The incredible lightness of being, personified. Later at the after party, he heard a local band and asked them to play with him sometime, and he experienced every piece of art in the space. Some artists, they just get old and lame, or they just disappear, or they gate their minds shut and live life in a perverse act of mindless consumption — and some open every door they can find, and keep going.
I cried a little because I know where everything is at the SRL shop, and I'm tired of deadlines, and I have two books I have to finish now that aren't me. They're someone else's ideas, and I'll make them my life and my blood and they will *become* me, but they're not from my skin. I went to bed and read the Ballard Quotes book, and read what he said about writing Crash. Understand that Crash is a lot where SRL comes from, that Ballard and Mark are friends, and before I knew any of that, Crash was the first book that I masturbated to while reading. Ballard said that writing Crash was like being helplessly tethered to a computer that was tracking an incoming missile. That's where I need to be.
If you're still with me, and you were hoping for sex, I'll share the sex dream I had on Monday morning. I have to wonder if I've been watching too much Eddie Izzard:
It starts when I am in a hotel room with a fireplace, and I have a rubber sex doll on the floor beneath me, a RealDoll. I put a double dildo in my pussy and it feels good to fuck her with it; I imagine I have a dick.
One of the Marching Band horn players come in the room w/no shirt on, but he's not the only one. There's another cute Marching Band boy in the bed with no clothes on. I want to fuck them both. But one of them demands personal attention in a very fun and flirty/sexy way, not pushy, and we're laughing, so I say, okay, meet me at the club.
I am earlier than he is; it's some kind of sex club but there's nowhere to sit or do anything, just a few people gathered here and there. Sparse. I don't have the right top on for this sort of thing, but luckily there is a rack of fetish clothing for sale near the front door. I start going through the selections, they are awful crap and nothing will fit me. I see the Marching Band boy walking over, and he is in drag. I'm not into sex with men in drag. He has a god-awful red wig on (I'm thinking), and a hideous pink shift of some kind that he thinks is a dress but just looks like he ran though someone's guest-room curtains, got caught, and said fuck it and tied it with a sash.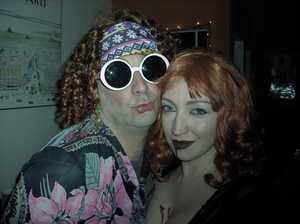 I am very angry that he dressed himself so poorly. The first thing I do is rip off the wig with a yank, and he looks much sexier in makeup but short hair, and he looks like he deserves/enjoys my wrath. I rip that stupid dress off of him, pushing him down to the floor as I do it. He's wearing fishnets underneath and no panties, high heels, and nothing else, and he has a huge hard-on strained by the tight netting. His makeup is smeared. It turns me on. Before I wake up I've ripped open his fishnets and am rubbing his cock all over my panties, hard.
Hmmm. Maybe I'm not getting *enough* Eddie Izzard. Or perhaps it's my friend Chriso's bad, bad influence — the picture on the right is his birthday party I managed to go to in the middle of all this, a "come as your favorite TV personality" party. He actually shocked me by dressing as Ab-Fab's Edna. Then I shocked myself when after everyone left I yanked down his pants and birthday spanked him while his boyfriend filmed, and Hornboy and a hot leathercop watched. Can you guess who I'm supposed to be but not pulling off at all with my $9.99 wig?
The post Incoming Missile: Hired As Fleshbot Editor appeared first on Violet Blue ® | Open Source Sex.