A friend wrote me recently asking for toy suggestions for leading her boy-toy down the road to bend-over-boyfriend bliss; more friends emailed about gifts for their lovers; I just wrote a San Francisco focused sexy gift guide for SFist; next, an autofellatiotasticmeta gift guide roundup for Fleshbot. But in all of that, I felt like dishing out my own opinions on what's hot this year — not last year's warmed-over vibrators. Full disclosure: I'm linking to JT's Stockroom throughout because they're cool people, have sexy product presentation, and Lucky Lana is La Bomba. (I do not, however, endorse the use of a product they sell called Anal Eze.) The only company linked here that I make money from is Amazon; I might make 30 cents off a calendar. This is all my own opinion. If you're the sugar type, feel free to donate gift certificates for me to any of the places I've linked to below — I'm broke and not celebrating this year, so I'm basically giving you a very biased wishlist of my own! And no, I'm not going to the Good Vibes holiday fetish party because I am not invited, though I do find it amusing that their theme this year is marching bands and cheerleaders. Because I totally don't have any oufits for that, or know any marching bands. (New readers: I worked there for 7 1/2 years.) Also, I'm not making the trek to AVN in January because there's no business reason that's justifiable for the enormous expense — most people will agree that it's really hard to do business there, and I'd only be going to see and get drunk with many friends (that I miss a lot).
But I *do* plan on going to a lot of other fun holiday parties this year and will post photos as I dress up and go out on holiday thrill-seeking adventures. I'll also be busy compiling the Top Ten Sexy Geeks of 2005 list — *lots* of nominations coming in — I'll publish it here monday. So, if you feel the urge to shop in the meantime…
Have a kinky holiday: bend him over with a couture Yule log, and white is the new black.
Wearing a strap-on is one of my favorite ways to play. A two-strap harness is ideal (as opposed to the g-string style). Allows for lots of access so you can jack yourself off (rub your clit) while you jack your cock, pleasurable and menacing/titillating at the same time. I prefer leather and buckles, but for airports/travel you might want a fabric model; machine washable, very nice for cleanup. You could also get a harness with a hole (no backing) and use one of Vixen's unique double dildos that penetrate both partners at once with the thrusting of the harness.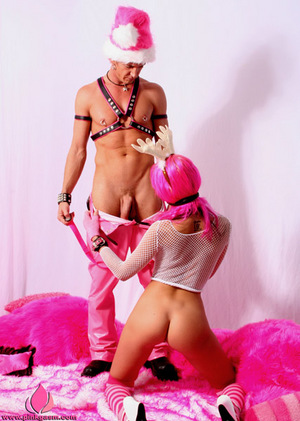 How about no harness required? I have a Feeldoe (actually two sizes), and you can find advice for double dildos and bend-over-boyfriend fun here. The bulb end is held in your pussy and the dick is a nice shape for ass fucking as it's not contoured. The small one would be my recommendation for novice ass-tronauts.
That brings me to the dil for your hapless doe (buck). For any thrusting activity get a dildo that is not contoured, or wider at the base than the top. The sphincter muscles are a ring about 1-2″ in depth and wide based dildoes are not comfy as they stress the (possibly already tense and worried) muscles. A bulb at the end is fine, and can be nice for prostate stim, but remember you'll then be putting the biggest part in first, which might be too intense for your virgin. I've had that happen. This looks like a fab kit.
Things in white are rare in the sex toy world, and they just look oh so sexy for holiday gift giving. Check out strap-on kit The Honeymooner; the Echo silicone vibrating dildo in Ambrosia; a white leather leash; white leather ankle or wrist cuffs; white leather collar (or dainty choker). For machine washable fabric versions, this restraint kit and blindfold in white nylon looks lovely.
I can't forget to mention the leather santa hats and stockings those crazy kids at JT's have, too — for the purists; the model is a total hottie, too. Madame S's bondage balloons will make your fetish holiday party the most talked about all year long.
Items I'd give my eye teeth for this holiday season
Feather Cocktail Dress, 60s Jumper, Latex Opera Gloves, China Girl Dress, rubber motocross oufit (!), Ribbon Cincher, and I've been drooling over this cammo corset all year.
Sexy 2006 calendars
I regretted my hasty purchase of Neglected Murderesses and The Deranged Cousins by Edward Gorey 2006 dayplanner once I saw all the hot dirty ones I could've gotten… I guess it's not too late for me to get On the Couch, Wild Guys (hawt) or Lust. Or the delicious flipside: Elvgren, Trevor Watson: Kinky, She! Sie! Elle!, Steve Diet Goedde and Erotic 2006. Of course, you can always get you free calendor porn fix here.
Best porn of 2005
Xana and Dax. Nina Hartley's Guide to Erotic Bondage. Suck It Dry. Alternative Worldz: Atlanta XXX. The Crash Pad. City of Flesh 5: Lisa's Little Secret. Erocktavision 3: Sapphic Desire. Jenna Loves Pain. Pirates. Halcyon and Tassy's Pinkgasm site; right now see a teaser for "Pink Santa Daddy & slave reindeer tassy" photoset for the RobOnt 12 Babes of Christmas.
Get The Merry XXXmas Book of Erotica, edited by Alison Tyler, and grab my new Best Women's Erotica 2006 (nice writeup at Babeland). Package a jumbo candycane with my Guide to Fellatio (how new cover!).
And finally, if you're looking for that perfect item that screams "pervert" and "originality" all at once, check out the variety of sites and software (like iPhoto/iDVD, FlipAlbum and Flipbook Printer) that can take sequential images or short .avi movie files and turn them into a flipbook. Portray yourself giving a jumbo candycane the holiday of its life, wiggling your tushy, spanking your butt, spanking your monkey… or any other naughty but nice message you'd like to pass on to that special someone. (Thanks, Kathryn!) And for all you horny cheapos out there, there's always the adorably naughty and ever-sexy free vintage nude e-postcards at Retro Raunch, or MyPleasure's mild-but-kinda-spicy holiday ecard selection.
Photos via RobOnt 12 Babes of Christmas.
The post A Sexy Holiday Gift Guide, Sort Of appeared first on Violet Blue ® | Open Source Sex.