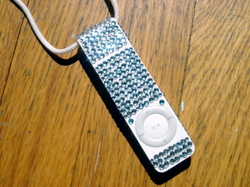 In between Fleshbot posts and pinching myself about all the podcast attention I'm getting today, I did a little craft project: I pimped out my iPod Shuffle. With one of those little "Bling It!" kits from Amazon (marketed to teens for use on cell phones), I sat with a small pair of scissors and applied tiny light blue and white "ice" rhinestones. How sexy will it look buried in my cleavage? Way. Total craft time: 20 minutes. Satisfaction: absolute. Jealousy when I shop in the Castro: insurmountable.
More Shuffle bling pics start here (click 'next' for more).
The post Pimp my shuffle appeared first on Violet Blue ® | Open Source Sex.