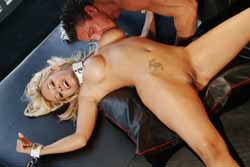 New podcast — but only you can decide if energy drinks and podcasting and super-hot talk about getitng tied up and fucked are a lethal combination… or not. Text:
Tie me up? How about bondage and kink for the rest of us…! You don't need to know complicated knots or BDSM lingo to have a hot time tying up your sweetie and having fun with them, so here I talk about what nasty and sweet things you can do do with someone who's all tied up — ice cubes to oral sex and beyond. And I have *a lot* of fun ideas. Then, to get you in the mood I read a really delicious light bondage and first time anal sex story from Alison Tyler's Best Bondage Erotica. Podcast image from Nina Hartley's Guide to Erotic Bondage.
Link to post: Open Source Sex 27 (violetblue.libsyn.com)
Mentioned in this podcast, for further study:
Graydancer's Rope Weekly * Happy birthday to sexy Minx at Polyamory Weekly! * Click here to launch iTunes: Open Source Sex
The post Bondage for the rest of us appeared first on Violet Blue ® | Open Source Sex.