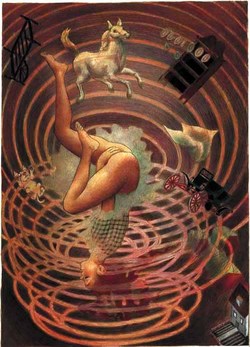 Sometimes I wake up and my inbox is full of surprises — but this has to be one of the top five for sure. I've long, long been a fan of comic writer Alan Moore, who many of you will recognize from writing/creating Watchmen, From Hell, V for Vendetta, and the first two sets of League of Extraordinary Gentlemen (among others; though my cult faves of his are The Killing Joke and Brought to Light). So it's with great, excited sleepless joy that I get to show you exclusive samples from his upcoming work Lost Girls (with Melinda Gebbie), featuring explicit sex — portrayed in a compelling, highly pleasurable way. Like the setting of League of Extraordinary Gentlemen, Lost Girls has Moore revisiting characters from Victorian fiction, where the main female characters from Neverland, Wonderland and Oz meet as adults in a strange hotel in 1913 to set out on a sexual adventure together.
Why did they ask *me*? Because they thought I would present the work in an honest and respectful way, which seems difficult to come by these days when it comes to sex (especially for the sake of pleasure). In an interview about the book, sent to me in the email, Alan Moore said:
"It presents this material in a way which is every bit as sensual and beautiful and at times, startling, as the actual sexual act itself can be. I think that was probably why we did it. The sexual imagination, which is the biggest part of sexuality, is not well served in our culture, and I really don't understand why that should be. The only way that we can talk about or refer to sex — we have two choices: we can either do it in grubby works of pornography that will be read by people who are desperately ashamed of what they are reading, or we can discuss sex in the clinical manner of sex manuals or The Joy of Sex. Neither of these things have got anything that I, or probably most other normal people actually associate with our sexuality. I doubt that many of us are clinical about our sexuality, or wish to be sleazy about our sexuality either, but these seem to be the only two options where this material can even be discussed — where the sexual imagination can even be talked about. That startling omission in culture was probably the biggest impetus behind Lost Girls — we felt that there ought to be something like that."
Read the first half of the interview with Alan Moore on Lost Girls here.
Not that I'm *not* a fan of sleaze or grubby porn, but he's hit on it. Our culture gives us either/or messages all the time about sex. And we're all *so over* it. As if to prove it, if you want to get your hands on a copy of Lost Girls, you're going to have to pre-order it, either via the publisher Top Shelf's site, Amazon or a comic shop. Borders is not touching it, and I was also told no comic shop will be ordering many, if any shelf copies, save Comic Relief in Berkley and the like…
Enjoy the art I was so graciously allowed to post, after the jump. Thanks, Matt!

* * * * * * *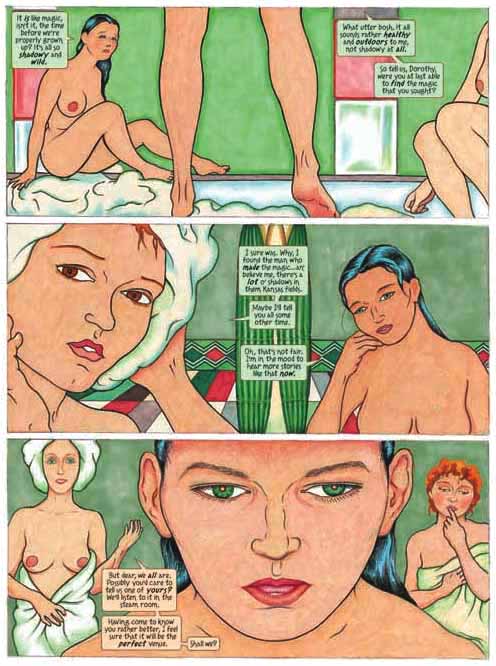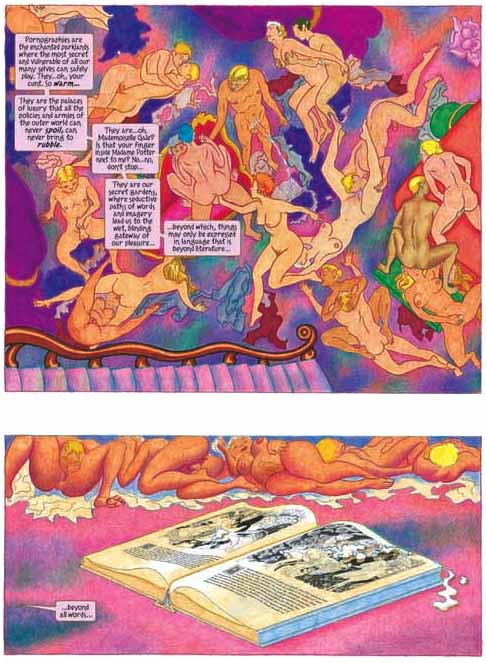 The post Exclusive: Alan Moore's erotic Lost Girls appeared first on Violet Blue ® | Open Source Sex.