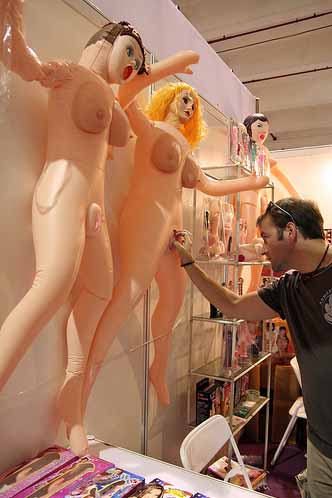 I think I missed a week of online sex reads — no matter, as Boing Boing had my back (door) covered. And no, they're not *all* authored by futuristic sexbot-of-my-dreams Xeni Jardin. A wrapup of essential Boing Boing sex posts:
* What's nice about doing this recap was that I got to see all the posts in related context and comments from readers that I'd missed. Check out Foodgasm v Porngasm: Can you tell the Difference?; Funny 1965 anti-pornography educational film (dig the remix Come Join the Fun: fantastic cutup version of "Perversion for Profit"); Spam for weird bottle opener (love this!); must-read: LAT's damning profile of Girls Gone Wild founder Joe Francis; amazing, photo via: Photos: Shanghai "Adult Toys and Reproductive Health" Expo.; New TSA restrictions and sex toys: whither the lube? (great comment in this post from my pal and fellow sex educator Cory Silverberg); chilling: UK man faces jail over 'made-up' child porn images — essential follow-up with lotsa comments: More on the legalities of "made-up" child porn; TSA: "no butt plugs" airport screening graphic.
* Rachel Kramer Bussel is quite happy with the cleavage situation. With all those lickable pictures, I am too.
* My pal Girl With a One-Track Mind had her much-anticipated book come out, only to have her true identity outed by the press. When I went on a wild drinking night with her last summer in London, her privacy was so important that she wouldn't tell me her name, and I understood. She's quite upset. But it's a good object lesson in the world of sex blogging and sex and blogging — if you really want it to be anonymous *don't tell anyone about your blog*. Ironically, "anonynous sex blogger author" Belle de Jour has something to say about all this. But the days of mystery erotic manuscripts are over. She's more famous for it now, and that sells books and gets traffic, right? Still, I'm glad she didn't delete her truly enjoyable blog, as many sex bloggers do when faced with upheaval.
* Lastly, I'm quoted lots in today's MSNBC article about teledildonics, future sex and sex tech — though I come across as quite cranky about the current state of teledildonics. Mind you, I did the interview at SRL in between machine loads while squatting on the floor leaning against the Williams jet engine because it was ther quietest place I could find — and Bob made faces at me the whole time I was trying to be serious talking about jacking off with electrode-laden leotards on. Read Will technology revolutionize boinking? Computers and chemicals spark creative ideas in dirty minds and truly marvel that people still actually use the word "boinking" in a non-ironic context. So retro.
The post Squeeze that mouse: Kewl stuff to read appeared first on Violet Blue ® | Open Source Sex.