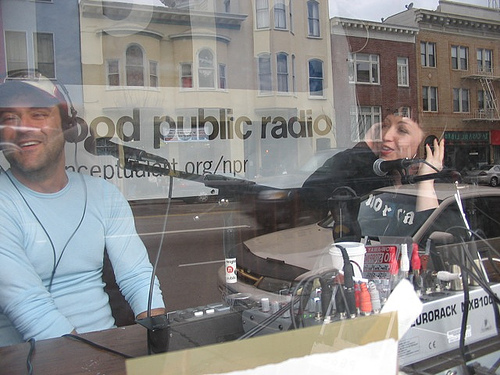 Image: me with Michael Soldier on NPR last week in the window at ATA.
Today, I'm off to give an oral sex lecture with Thomas Roche for SFSI students — or as someone put it, I'll be "discussing deep-throating in front of 35 puppy-dog-eyed newly-minted superfreaks."
After that I'm off to do the radio show: this week I'm interviewing Tristan Taormino about her new book, new movie and anal orgasms. No, she won't be here in SF, she'll be on the phone, but anyone happening by will be able to listen in on our discussion. When I get the audio file after, I'll start post-production on a video version and an audio version for podcasting. Read more about today's NPR schedule at SFMetblogs. Also laugh at the hilarious comments in this post where I'm accused of "dumbing-down" [SFMetblogs with] "cheap t&a" photos. (Those words are from the email she sent my editor, ha.) Personal attacks are funny, especially when they're from prudes. As Mark always tells me when I tell him stories at our machine shop about making people mad at me, "If you're pissing someone like that off, you're doing the right thing."
The post Today radio, oral sex appeared first on Violet Blue ® | Open Source Sex.