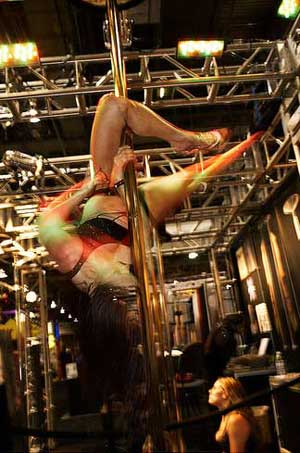 * Great sex links over on Boing Boing — as usual, the blog moves so fast, blink and you miss them. I *love* the story Playboy centerfold pranks from the late 1960s — the astronauts had no idea they were carrying cheesecake until they were *on the moon* — so very cool.
* Also, read this chilling post, Teacher faces 40 years for porn in classroom, blames adware. I think we all know what it's like to work at a company and have a tech problem (often that we know how to fix ourselves) but get no solution until something bad happens. The school's internet filter license had expired and no one did anything about it — and now she's going to be sentenced for "four counts of risk of injury to a minor in connection to pornography the students saw on her computer screen". This proves that we don't need to fear the government as Orwells' Big Brother — we *are* Big Brother now.
* Another Boing Boing porny bonus: NPR "Xeni Tech": Tech and Porn collide in Vegas. Xeni went to AVN and CES (I'm sure she had to autoclave her entire body afterward), and brings back a sweet 3-minute report from the front lines. Her post links to the hands-down best coverage of the expo, proudly done by my cohorts at Fleshbot. I can't even begin to relate how sad I am that I couldn't go this year. The book distributor's bankruptcy has me frozen without income for 6 months, and I'm unable to afford to do work like this. I missed seeing friends and doing weird multimedia coverage (and believe me, I was exclusively invited to cover amazing things in wacked multimedia ways at both conventions, I just don't have the scratch to do it). I actually hate AVN and the suffocatingly heterosexual, hyped up, crass, stereotype-riddled atmosphere — but I also love being such an outsider there, with a handful of other outsiders. It reminds me of why what I do is important and different, and makes me glad I'll never fit in. (Additional re: Xeni's post: I already commented on "Janna Tales" here.)
* One of my other internet homes, SFGate, has a terrific article about Kink.com buying the old government armory here in town. Still, they don't link… but worth a read.
* A great site to add to your bookmarks if you're a nerdy sex and tech geek like me: X-Rated Patents. Check out the Lap Dance Liner for men, the Male Genetalia Tanning Bed Shield, and a sure way to avoid those pesky boob wrinkles, the Cleavage Anti-Wrinkle Device.
(Photo by Nikola Tamindzic. Check out the creepy/sexy/great Fleshbot AVN photosets on Flickr: day 1, day 2, and day 3)
The post AVN, pin-ups on the moon, adware porn convictions, sex patents and more appeared first on Violet Blue ® | Open Source Sex.