The state of Japanese breasts is something we here at Tokyo Kinky are frequently thinking about, whether it's scouring the latest data or observing with our roaming eye whatever we see on the streets of this fine city.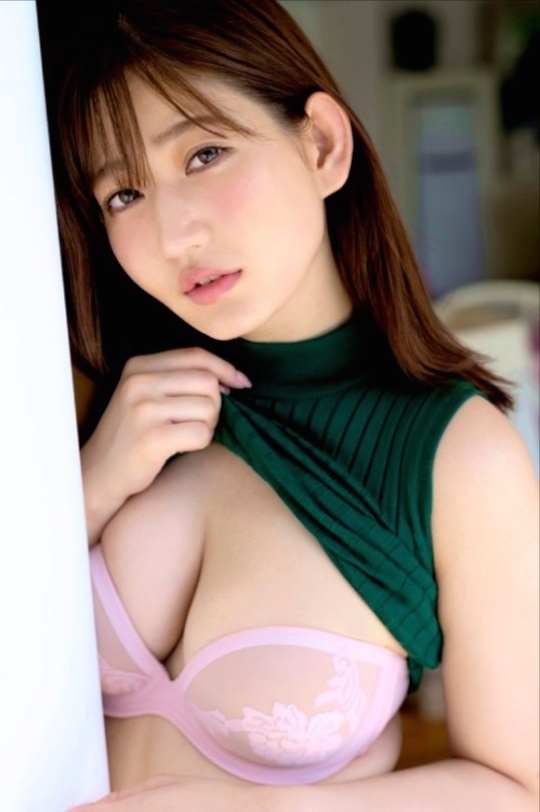 A "bust map" survey by female-friendly adult brand Love Cosme of 33,813 women from prefectures across Japan has confirmed, once again and yet again, that busts are indeed getting larger.
Here is what the map of average cup sizes in Japan looks like.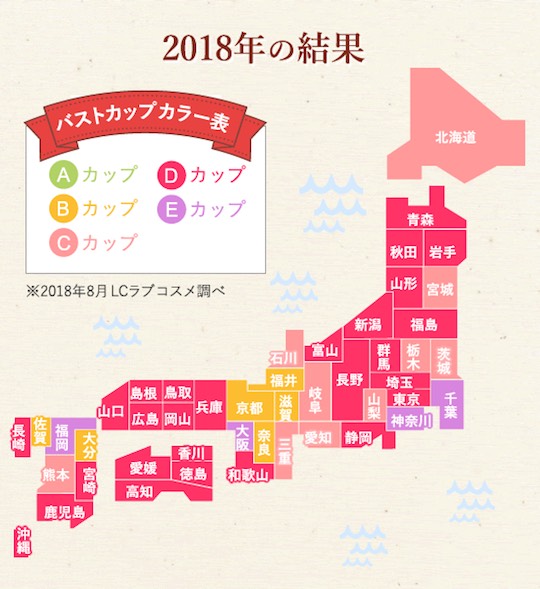 We spotted some evaluation of the survey over on clickbait-courters Sora News 24, though their explanation of the survey findings is pretty good here.
The data, collected between January and August of last year, showed a D-cup bust to be the most common, with that being the average size in 27 prefectures, including Tokyo, Hiroshima, and Nagano. Osaka and Kanagawa were among the four prefectures at the top of the scale with an E average, while Kyoto and Nara were among the six at the smallest end with B-cup busts. For the remaining 10 prefectures, such as Hokkaido and Aichi, C-cup breasts were the most common, and no prefecture came out of the survey with an A-cup bust representing the study participants.

The complete list of results is:

B-cup: Fukui, Kyoto, Nara, Shiga, Oita, Saga

C-cup: Aichi, Gifu, Hokkaido, Ibaragi, Ishikawa, Kumamoto, Mie, Miyagi, Tochigi, Yamanashi

D-cup: Akita, Aomori, Ehime, Fukushima, Gunma, Hiroshima, Hyogo, Iwate, Kagawa, Kagoshima, Kochi, Miyazaki, Nagano, Nagasaki, Niigata, Okayama, Okinawa, Saitama, Shimane, Shizuoka, Tokushima, Tokyo, Tottori, Toyama, Wakayama, Yamagata, Yamaguchi

E-cup: Chiba, Kanagawa, Fukuoka, Osaka
What, no A cup? All right, Japanese busts are often smaller — but not THAT small, it seems, anymore. Saitama had an A-cup average (a veritable hinnyu) in a 2012 survey by Love Cosme, but has increased significantly to a D cup in the intervening years. Hooray for Saitama! Now that's what we call evolution.
Here is the map in comparison with the 2012 data. Red shows an increase in average cup size; blue shows a decrease; gray shows no change.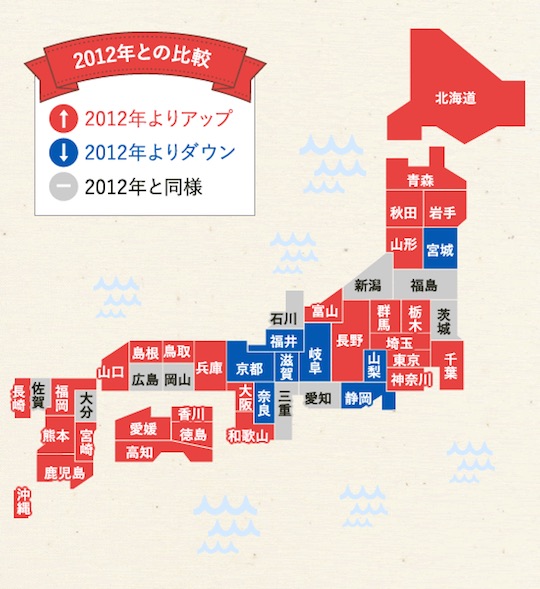 Many previously small-busted prefectures experienced a growth, almost as if ladies are trying to increase their cup sizes!
Comparing the most recent results to those from Love Cosme's 2012 study (which involved 24,819 participants), seven prefectures saw their average sizes go down and 10 stayed the same, with Kyoto experiencing the largest reduction by going from an E in 2012 to a B in 2018, the only three-size drop. Previously D-cup Fukui, Nara, and Shizuoka all moved down two sizes, as did Gifu, shifting from E to C.

On the other hand, the bust size for 30 prefectures grew compared to the 2012 statistics. The largest gain occurred in Saitama, Tokyo's neighbor to the north, which in 2012 was the only prefecture with an A-cup average. As of the most recent study, though, Saitama has grown to a D bust, the largest gain of any single prefecture (something Love Cosme credits to an increase in average hours of sleep per night for Saitama teen girls over the past few years).
Tokyo, where we are based, experienced only a modest gain from C to D. Moreover, cup sizes in ten prefectures actually had the same results as the 2012 survey. So if you live in Aichi, Fukushima, Hiroshima, Ibaragi, Ishikawa, Mie, Niigata, Okayama, Oita, or Saga, you have probably had a consistent six years of similarly sized breasts!
We should also keep in mind, amid all this fanfare and celebration, that research seems to show Japanese men prefer smaller breasts. So, ladies of Saitama, don't get too big in the chest if you want to stay popular with the guys.

More Amateur wife XXX videos