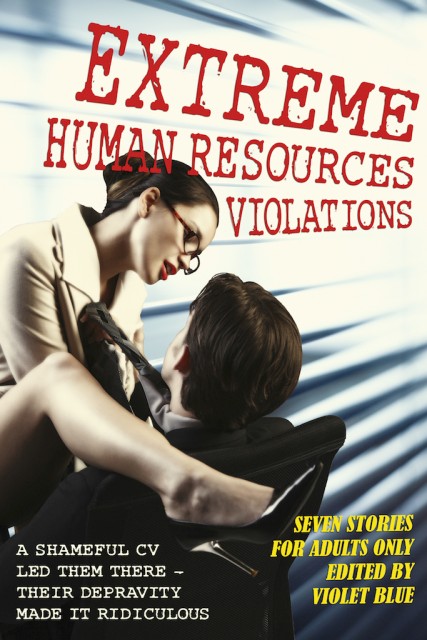 It's here! Extreme HR Violations ($3.49) is a collection of ridiculous, extreme, and -intentionally arousing- office sex stories.
These people are unhireable, and their sexual escapades are unbelievable! No really, this thing is like an employee handbook written by perverts. That's because it is: The authors in this anthology are in award-winning erotica collections, and are also clearly recovering from painful office jobs in their past. This book is what really skilled erotica writers do when they're blowing off steam… and I think you'll love it as much as I do.
* Get Extreme HR Violations on Amazon ($3.49).
* Or… get Extreme HR Violations direct from me at Digita Publications ($3.49, .pdf, no DRM).
If you're a book reviewer, click here to get an advance review copy.
Here's my cheeky marketing copy:
The keg: Seven sordid offices…
The powder: Their depraved hiring practices…
The fuse: Applicants' willingness to do anything with office supplies…
And the white-hot spark was: A horrified human resources department!
The blasts that follow will either confirm—or explode—your ideas about corporate team building!
In Extreme HR Violations, seven skilled authors deliver clever tales of behavior highly inappropriate for any workplace… Secretaries willfully file everything in the bottom drawer. Female execs put male assistants to the oral test in overtime. Interns stage pantyless catfights in the break room. IT workers get "accidentally" trapped between ladies' legs under desks. Punishments involve filling out forms in ways you'd never imagine.
The ridiculous sex antics by bosses and underlings in these tales of office kink lead readers down shameful career paths, yielding referrals that can only be whispered by the most depraved recruiters.
There's a ton of chemistry in these stories, and a fun bit of romance too. But make no mistake: These offices are an HR department's nightmare, and that's entirely the point.
Table of contents
* Introduction: The Ins and Outs of Office Politics by Violet Blue
* This Call May Be Monitored for Quality Assurance by Xavier Acton
* Quiz Day by Sommer Marsden
* The Importance of Good Networking by Saskia Walker
* Disciplinary Action by Marie Sudac
* Fair Trade by Jodi Fowler
* The Job Interview by Thomas S. Roche
* Memorandum by N. T. Morley
The post New book! Extreme HR Violations, tales of ridiculous office sex appeared first on Violet Blue ® | Open Source Sex.
More Amateur wife XXX videos