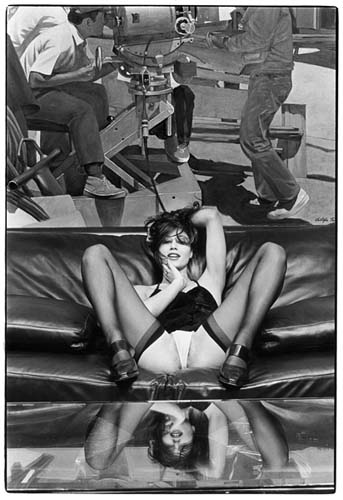 Referring to my inbox, and San Francisco (not to mention Napa and every town near a Northern California river right now). It's *still* raining. Trees falling on cars by my house; my back fence came down during the night. It rained all day yesterday, too, but that was fine because I was hung over and decided to spend the first day of 2006 cuddling with myself under a blanket and reading James Ellroy.
I spent New Year's at Laughing Squid HQ with lots of friends. No naked New Year for me, but it was still nice, full of love and warmth, and low-key. What was the hot thing everyone was talking about? Second Life.
Today I see that one of my favorite sites, Crooks and Liars tells us that their most downloaded clip of 2005 was the Kayne West Concert for Hurricane Relief clip. Which makes Mike Meyers the Most Uncomfortable White Man of 2005. If I was going to AVN this year (which I'm definitely not), I'd wear my "Kayne Was Right" shirt, and like eight people would be really stoked I did. (Crooks and Liars scoops the media all the time on news stories; a recent breaker was the Uzbekistan UK-US torture memo blogger revolt; elaborated here.)
Few have reported on it yet, but I had an extra reason to celebrate saturday night — last wednesday a US District Judge ruled that the changes to 2257 are unenforceable. That means Tribe can eat crow, and the legal battle will still rage, but it's a big victory. Jason Schultz points me to a nice legal wrapup here.
Apple returned me to iTunes. I made a list of goals for my upcoming year. One biggie is to make some changes to Tiny Nibbles: I want to add a sitewide search; I want to get the entire site translated in Spanish (as 1 in 4 Californians speak Spanish); French would be nice, too. I've been working for over a year on my AI robot and I need help formatting her into an HTML page (I know *nothing* about forms) and beta testers for an oversexed artificial intelligence being who still has a touch of Turrets. I want to learn to play the trumpet. I want to do more pinup modeling. My accountant lied to me for the past year about fees and filing and now I owe thousands to the government for her fuckups, so I seriously need to figure out some new revenue streams (and no, she won't return my calls, so shocking). I want to write a novel, which I'm already outlining — I'll self-publish if I don't find a publisher I like. I want to take more sex ed classes and update/reset my internal sex ed programs. I want to teach more, as well. Some time this year, I'll have to help move the entirety of SRL, which will be insane.
Image: Dahmane.
The post Monday flooding appeared first on Violet Blue ® | Open Source Sex.
More Amateur wife XXX videos