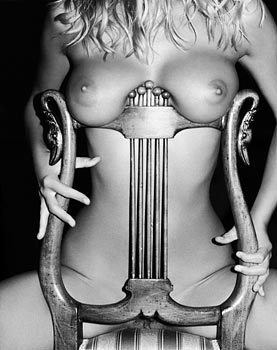 Courtesy of Bruno Bisang, via my friends at Touche Sexy. Today, an article in the NYT about pro-anorexia online, not as thoughtful or informative as the one I asked Thomas Roche to write four years ago for the GV Magazine. Yesterday, pirate radio with Annalee Newitz (soon to be an episode of Open Source Sex; check out her sexy new blog).

Friday, a depressing conversation "off the record" with YouTube. Put a big "alleged" in front of my comments from an off the record conversation, but know that they consider anything not squeaky clean family fare a niche they shan't bother with, and in the niche goes anything with nudity, the arts community and stuff for grownups (inlcuding, as I asked about, say, videos from Abu Ghriab). And yes, they'll yank your membership if you repeat offend, and no, you don't get your videos back. Don't you just hate "community" services that have cool stuff and yet treat everyone like children? I suggested making "mature" areas for non-porn (but edgy not for kids) content retaining the ability to embed a player into a blog, and got the "niche" response. It's nuts — my site is for adults, and that is *my* responsibility; I have an age check gateway to keep out people under 18. They could just make the content off limits to the wider YT community but still available for embed on outside sites who would then be responsible for the content being seen by adults. That way I could enjoy all the dumb Hollywood trailers I wanted in my YT favorites and blog embed those as virally as I wanted, but could also entertain myself as appropriate to my age, culture and interests. Too bad, like so many sex-negative entertainment venues, in their TOU they see all nudity as sex, and all sex as bad or a liability.
Kudos to iTunes for their grownup-friendly parental controls. I'll still link to YouTube now and then, especially since I think their community flagging censorship approach makes for an amusing trainwreck (and one that's rife with contradiction). I mean, why have Naked News on there, make people have to log in to prove they're 18, but then indiscriminately yank other videos with nudity in them (like mine)? Doesn't that parlay into believing that their own mature content filters don't work? Anyway, I'll be linking to them always with a caveat that the link is temporary and unreliable, and I'll be trusting my non-explicit and artsy videos for grownups to another service. Who wants a world without something like the playfully erotic Naked News? Especially Naked News Daily Male, yum. Certainly not me. (And I'll start experimenting with embedding my own video players while direct linking to content makers — why give YouTube thousands more hits when they don't care about retaining users like me?)
Besides, their RSS is seriously fucking broken. Jonno and I were talking about doing more YouTube video links on Fleshbot, but with traffic like ours we can't link to anything that's unreliable. We're still talking about it, though.
A more well-rounded video service? Right now, Blinkx.tv has my vote, especially since they include podcasts — they just need to simplify their interface.
Update: Tiny Nibbles reader Gabe tells me in an email with the subject "YouTube bores" that I might want to check out Daily Motion. Thanks, Gabe! I'm just happy to find a sensible service that doesn't obfuscate its practices or change its mind about how and when it enforces its Terms of Use — blogging and my web presence is my livelihood, and I depend on having these services keep their promises to me. For instance, the YT rep (off the record) told me that they're going after anything with nudity right now, but nowhere in their TOU are the words "nude" or "naked".
The post La Dolce Sunday appeared first on Violet Blue ® | Open Source Sex.
More Amateur wife XXX videos