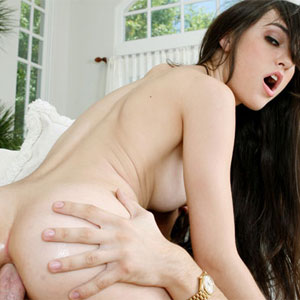 But of course, it's MSM so we can't use the word "fuck" can we? Nope. Well, it doesn't matter one douche because from what I learned from Jack from GayPornBlog, Tristan Taormino and a few others, "How to Make Love Like A Porn Star" is far, far from the glamor it portrays (or rather, barely conceals). But lemme tell ya, after a week of fevers and then Jack telling me about clocking "brown eye" on a gay porn set, I'm about ready to fit into my smallest jeans… I just wanted to demystify porn sex a bit, find out what porn stars really go through to get the same celebrity sex work like the wanna-be Jennas and the wishful Teras and hopeful teen anal queens flirting with Jonno at AEE/AVN right now. Because it's interesting and scary and funny for the wrong reasons, and "brown eye" is hilarious and can't be un-read (no matter how hard I tried, and I know which pornstar he's talking about, ugh). Photo via Fleshbot's Tales From The Ass.
I see that all day wednesday on SF Gate Mark (Morford) got a big swirly picture of constellations on the front page to feature his column. Do you think today I'll get a pwetty picture of a big brown eye? Hey, it's my job to scare the newsroom, and I apparently do it well. And Mark and I are friends, and we don't compare. (Mine's bigger anyway.) Here's a snip from the midsection of How to have sex like a porn star (OMG there's already a comment, so excellent):
(…) While Exotic Erotic East … I mean the AVN Awards, is gearing up for its expo in Las Vegas this weekend, don't you wonder what it would be like if someone really wrote that book? I mean, how to really "do it" like a porn star. It's so glamorous, and men's magazines are always trying to teach the fellas how to trick their girlfriends and wives into being more like porn stars in bed, and kids these days … well, where else are they gonna learn about sex?

I hate to break it to you, but first, the title would be a misnomer. Porn stars don't "make love" — except maybe to the camera. They make the sex, and they get the paycheck.

Porn performers occupy the small end of the gene pool: They don't look anything like you or me, and that's why they got the job. They don't need to cuddle before or after sex, they are extremely limber and can withstand holding difficult positions under hot lights for extended periods of time. They wax their balls, asses, vulvas, chests and backs. They get surgeries you've never even heard of to plump or sculpt everything from labia to breasts to calves. They have sex with total strangers every day, and the successful ones make it look like it's not a job. Studios like local Kink.com know that what their models do is an extreme sport (and at Kink, accent on the "extreme" part), thus they treat their performers and models like Olympic athletes.

The films are edited to make it look like everyone's having a good day; there's no PMS, no periods, no birth control, no STDs (and miraculously, no safe sex!), no headaches, no farting, no meltdowns and no disabilities. The condom exception is on gay porn sets where they're handed out; in straight porn condoms are laughably optional as the pool of straight performers rely on their AIM test results as their ticket to perform.

But wait — if you have sex like a porn star, women orgasm from the slightest stimulation! Girls, want to kiss like porn star lesbians? Just lick tongues, it fools everyone. On camera, anyway.

How to be penetrated like a porn star

Dana DeArmond boiled it down for me in one succinct sentence: "Wash it and f-." Stop trying to turn me on, Dana. Vaginal douches are standard — and douching is really not good for the vagina, at all (it strips out all the helpful, protective bacteria). Sure, cleanliness is the basic wish we all have when we hook up, but for professional on-camera sex work, it's a lot more involved than taking a shower before your date. For instance, say you wake up on Sunday morning and think you might try a little anal sex with your sweetie. You get up and discreetly use the restroom and wash, maybe do a little prep with a finger and some lube to relax the muscles. It's not like porn where they're "always ready" for the baseball bat or fire hydrant to pop right in there. Right.

But if you want to do it like a porn star, how does an early Sunday morning 6-7 quart enema sound? Pretty hot, I know. (Before church! Just getting that one out of the way for the comments.) Most of us are like, "You want me to put what, where?"

Tristan Taormino politely tells us, "Each porn star has his or her own ritual to prepare for an anal scene. It usually involves a nice deep-cleaning enema either the night before or the morning of the scene. Some will also do a little "rinse" right before the scene. Some people won't eat at all until after their scene, others will only eat a light meal."

But being penetrated in porn, no matter your gender — whether it's vaginal, anal, or oral — is "bottoming." Jack Shamama from San Francisco's GayPornBlog.com, who has been on more gay porn sets than there are boobs at AVN — from the top studios to amateur and everything in between — explains the details:

"If a guy is going to bottom in a porn, they must — with no exception — douche about an hour before their scene. On every set I've ever been on, a private place is set up for the bottom to collect his thoughts and hose himself out (…)
Link.
Update: choice comments, after the jump (322 and climbing)…

* * * * * * *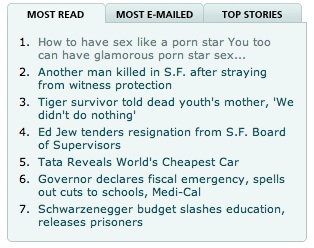 Note: I cherry-picked my faves, some dialogue is missing.
xoconostle wrote:
I don't want to act like a porn star. I want to make strange noises that sound like 1970s porn soundtrack music. Like this: wicked chicken wicked chicken wicked chicken wicked chicken…
*
secada wrote:
each of her articles are tears wept for inability to enjoy that which she dissects to the point of being unrecognizable…physical love. poor violet.
me: they evidently don't watch my photo streams 🙂
*
booboobear wrote:
We should start a fund drive to raise money to provide Shower Shots equipment to the gay-for-pay guys. That part of the article made me gag while drinking my cafe mocha.
*
shotzyreborn wrote:
"I once witnessed a group of bottoms threaten to walk off a set en-masse because craft services only served bran muffins." Well no WONDER some queens are so pissy. Anyway, THANK YOU VIOLET for showing we are NOT fudge packers. I loathe that expression.
*
shotzyreborn wrote:
I have jpeg collection of about 5,000 pics. They are all maleart though, solo nudes. Every time I see a porn movie though I just think "augh I swear I am never going to do THAT again. It looks so undignified.
*
booboobear wrote:
greenlover: she's given a forum as a balance to the sex-negative, judgemental opinions such as yours. It's called journalism, but we all just call it "kicks and giggles."
*
youseeit wrote:
boo, that's a great idea. i still have the hat i wore as a pizza boy in college, so i'll bring that. we'll need a dirty stay-at-home wife, a cop, and a female friend who just happens to be walking into every scene naked.
*
shotzyreborn wrote:
What I found shocking is that I've been misusing the term "brown eye" for years. I thought it just implied a … well like a dark cave. In this article it sounds like it implies uncleanliness. Eeewwww. We may not have a lot of bidets in this country but at least there are available drinking fountains to take care of this problem! Are Eastern Europeans really that lacking in their hygiene?
*
xoconostle wrote:
As regards the "top/bottom" thing, the funniest way of describing those roles I've ever heard was voiced by Sir Anthony Hopkins in the so-nightmarish-it's-wonderful film "Siegfried and Roy: The Magic Box in IMAX 3D." Said Sir Tony: "Siegried is the magician, Roy is the magic." Oh my. Now we know.
*
cher_cher wrote:
Not at all, shotzy! I actually don't think pornography is a good thing per se. It just *is*.
my point, exactly. not black or white, just gray.
*
xoconostle wrote:
My "male feminist" cred will probably die with my saying this, but I think it's possible that porn, for many men, serves a healthy function in terms of, well, release of tension. It's when it becomes an obsession and taints how one thinks of real-life sexuality that it gets problematic. When I was adolescent there was no internet and finding nekkid pictures seemed naughtier and more difficult. I sort of worry that young folks coming of age these days are getting their ideas about real sex from online porn. You won't learn much about reciprocity, affection, commitment, or for that matter even what's truly hot from online porn, or so I believe. I dunno … it goes way beyond porn these days. Objectification and general cheapening are "cool." I'll never accept that it's okay to casually refer to women as bitches and hos. No way. I don't care if that makes me square. So be it.
it's a release of 'tension' for us girls, too. but a good, honest comment.
*
zugzwang wrote:
When I was a teenager I used to get porn from my friend from England who had all these British porn mags. I think it totally warped my sexuality, the centerfolds would literally have descriptions like "this is Amanda, she has 4 O-levels and 3 A-levels and she loves watching snooker on telly and she adores chips with peas." The start of some very strange turn-ons, including crooked teeth.
*
shotzyreborn wrote:
You are not a f*g hag cher. Several times I've been in gay bars (oh like I need to even state that?) and I'll tell you what a f*g hag is. LOUD. CLASSLESS! OBNOXIOUS. Holding up the line ordering foo foo drinks made with THE CHEAP WELL LIQUOR. That isn't you or any woman I've ever known. I just hate it. They all act the same and I just … wish Ted Bundy was still around.
*
booboobear wrote:
right_winger/rudy/kip: Nair is a really nice lubricant that heats on contact. You should definitely try it to spice up your chaste, pure marital relationship. No harm done using lubricant as long as the sausage ends up in the punana, right?
*
danthemanprod wrote:
this article is another example of the moral decay of this city and moral decay of the country. why is this in a news article. save it for HBO real sex. not the freakin chron. you per verts. wake up. glorification of porn is not ok. shame on you.
*
squeek wrote:
GAWWWWWD nothing ruins a good porn post better than the right reverend huckleberry's ugly mug appearing in the advert column to the right.
*
squeek wrote:
So How does a well endowed guy, with a 10 hour hard -on drive home? Or does he just hitch hike?
The post How to fuck like a porn star: This week's column appeared first on Violet Blue ® | Open Source Sex.
More Amateur wife XXX videos