Every fan of the top gravure idol Anna Konno is rejoicing in the streets today:
The opulently chested, ravishlingly bodied veteran has finally gone a step further and dropped her clothes — all in the name of her career.
Konno wants to be taken seriously as an actress as well, and she has a role in the two-part film Ah, Wilderness.
Rated R-15 and based on the Shuji Terayama novel about boxers, it stars Masaki Suda, Yang Ik-june, and the up-and-coming actress Akari Kinoshita.
Anna Konno is shown lying on a sofa, her arms up to cover her generous naked bust but failing to conceal one of her beautiful nipples. She looks beautiful yet vulnerable.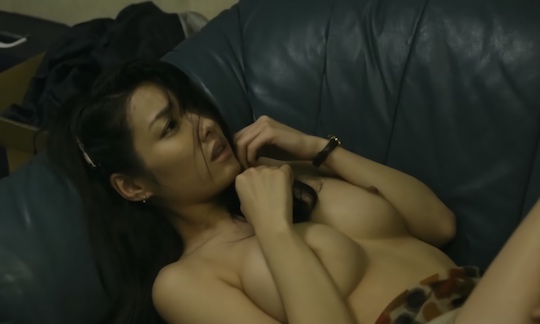 All right, it's a brief glimpse if ever there was one, and shouldn't be enough to get us excited, but among the recent desert of exciting Japanese movie sex scenes it stands out to our hungry eyes.
Another role in the film is played by Aoba Kawai, who had a nude sex scene in Kabukicho Love Hotel (Sayonara Kabukicho).

More Amateur wife XXX videos