Tenga won't be new to regular readers of this humble blog. Just in case, know that Tenga is the top adult brand in Japan in terms of mainstream exposure, quality, and sophistication of design. It is the only adult brand to have made it big in markets globally and its amazing toys are now sold worldwide, though some are only available in Japan.
It has changed over the years, though, and is now a subsidiary of Soft on Demand, affecting the internal freedom — or so we have heard down the grapevine.
Nonetheless, it continues to release great items that continue the sex and masturbation revolution Tenga started with the Tenga Egg, Tenga Onacup, and Tenga Flip Hole series well over a decade ago. Its marketing campaigns are also still very novel, always trying new kinds of campaigns and promotions.
In short, Tenga is a legend in the industry. And now we can go inside its headquarters.
The always-reliable Asian Boss published this video report from a visit to the company, which includes an interview with Tenga boss Koichi Matsumoto.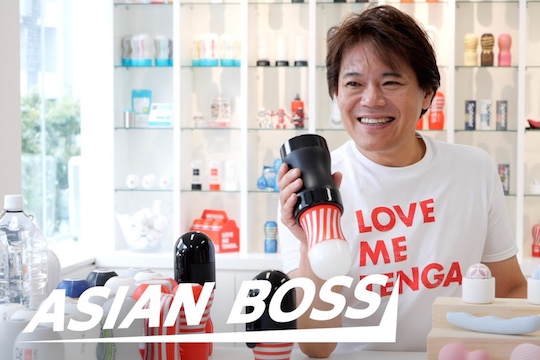 "Our vision is to make everyone have a bigger sexual appetite, more fun," Matsumoto shares. He explains why Tenga made a break from the standard for sex toys in Japan, not least in its chic and minimalist packaging that does not carry images of nude women: the toy aim to look "cool, positive, and safe."
He also introduces some of the toys that were designed to help people with fertility issues and premature ejaculation.
Matsumoto doesn't hog the limelight. The video interviews Tenga's female employees who are part of the brand's very successful push into the women's toys market with the bestselling Iroha series.
The last word, though, belongs to Matsumoto. "We're pursuing our philosophy of making people's lives happy, and these are the products we've developed."


More Amateur wife XXX videos