Just when you think the bureaucrats couldn't get any sillier, along come some to prove you wrong.
Activists and ero-manga (adult manga) fans in Japan have been shocked by the recent designation by Hokkaido and Shiga prefectures of two reference books as "harmful" to youngsters.
Zenkoku-ban Anohino Erohon Jihanki Tanbouki (Nationwide Study of Pornography Vending Machine of Yesterdays) and Ero Manga Hyogenshi (The Expression History of Ero-manga) by Yusuke Kato are about adult manga but are not adult manga themselves. But this distinction means nothing to Shiga and Hokkaido: the former designated Zenkoku-ban Anohino Erohon Jihanki Tanbouki a "harmful publication" in late March while the latter did the same for the academic Ero Manga Hyogenshi the same month.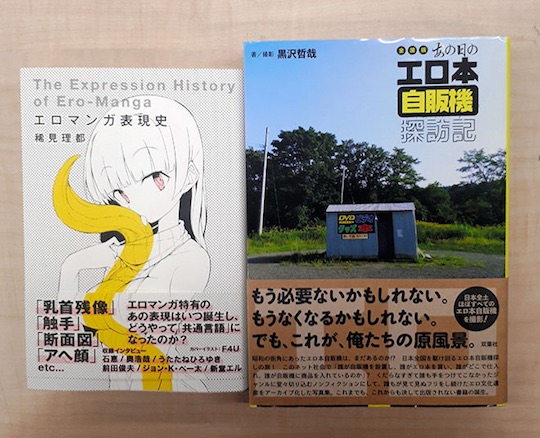 This designation means that the books can only be sold in special areas in retail outlets ostensibly for pornography and other content for those aged 18 and over.
But is it justified? Ero Manga Hyogenshi examines historical changes in the depiction of breasts or genitalia in erotic and phonographic manga. Erohon Jihanki Tanbouki is a photography book documenting surviving vending machines that sell pornographic magazines, books, and videos.
Though their content might be drier, the books feature female nudity and depictions of sex on their covers.
"After the 'harmful publication' designation, it would be difficult for libraries to possess the titles in their collections or use them as a reference in public lectures," Kotaro Ogino warned the Asahi Shimbun, representative of Uguisu Ribbon, a nonprofit organization that advocates for the protection of freedom of expression. "I believe a healthy society is where an open discussion on the ways and degrees of sexual expression (in various media) is held."

More Amateur wife XXX videos