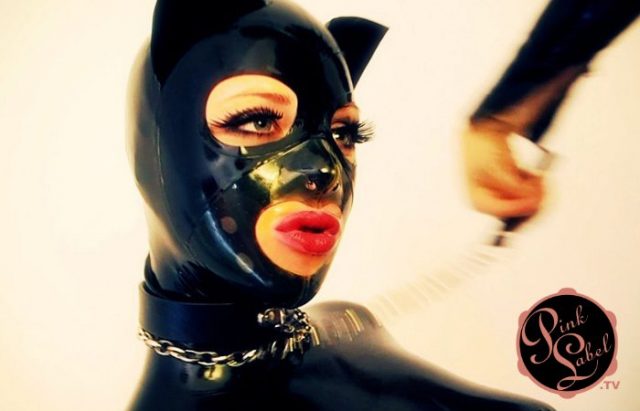 "A Belarusian [adult] model [and sex workshop instructor] who claimed last year that she had evidence of Russian interference in the election of Donald Trump has been arrested upon her arrival in Moscow following deportation from Thailand … Vashukevich, also known on social media as Nastya Rybka, earlier claimed to have recordings of Russian oligarch Oleg Deripaska talking about interference in the 2016 US election, but never released them."
* Model who claimed to have proof of Russian meddling in US election arrested (Guardian)
"In an age where the internet will get horny for just about anyone — including but not limited to James Comey, Robert Mueller, and a variety of actual animals — one can understand why Cohen might believe that he could reverse-engineer a sudden and surprising thirst for himself. It, obviously, did not work: As of press time, the account has just over 800 followers, and it feels doubtful that the disgraced lawyer has been anyone's #mcm since it quietly closed in December 2016."
* Of Course Michael Cohen Paid for His Own Thirsty Twitter Account (The Cut)
Hi, it's Violet! Please become a Patreon patron!
"It's no surprise then, that the push for porn filters comes from a religious segment of campus. The Notre Dame letter, for example, was part of a yearly anti-porn campaign by a campus group called the Students for Child Oriented Policy (SCOP). The group advertises itself as nonpartisan and nonsectarian, but has hosted several anti-abortion talks on campus and once circulated a petition asking Notre Dame to take a "clear stand" against same-sex marriage. Irvine, meanwhile, is president of a pro-heterosexual-marriage campus group that has been accused of promoting intolerance against LGBTQ students."
* These College Guys Are Trying to Ban Porn on Campus (Daily Beast)
"The Last Days of August works as a hybrid of Ronson's first longform audio piece about the adult industry, The Butterfly Effect, and You've Been Publicly Shamed, his popular book about online social punishment. It unfolds with the tense narrative of a true-crime podcast, with Ronson and Misitzis' anxieties about the project's sensitive nature as a meta-emotional thread."
* 'Last Days of August': New Podcast Probes Porn-Industry Suicide (Rolling Stone)
Here are some "fun" facts about vibrator security:

1. If your vibrator is bluetooth enabled it is trivially accessed by a local attacker. All the noise has mostly been around this attack vector but it's the most boring and least worrying. https://t.co/HeLlnq5m6B

— Sarah Jamie Lewis (@SarahJamieLewis) January 17, 2019
"The Infinite Love Party, Ms. Oh's contribution to the Bushwick Starr's winter lineup … [is] billed as a celebration of queer people, people of color and their allies, it's a party, not a play. But there is a definite structure to the proceedings, and on Tuesday night, wrapped in a silky robe and with lacy black kitten ears on her head, Ms. Oh welcomed an invited crowd to a kind of dress rehearsal: a practice run with the same sleepover option that regular guests will get."
* It's a Sex-Positive Party, Not a Play (NYT)
"When Elise Graves, the dark-haired woman in the clip and a Bay Area bondage enthusiast, first agreed to be waterboarded for the Kink.com clip, she was aware of its history as a torture method. But she didn't find it terrifying. For the most part, she says, she found it a turn-on. "I find the combination of adrenaline and some anxiety or fear, plus exhibitionism, to be sexy, so that whole combination of things worked for me in an arousing way for sure," she tells Rolling Stone. She compares it to "something that's scary but fun, like rock-climbing or skiing.""
* Waterboarding for Pleasure: When Kink Violates the Geneva Convention (Rolling Stone)
"Nearly a year after YouTube pledged to remove images of graphic bestiality from its platform, simple search queries that include the word "girl" along with "horse" or "dog" ("girl horse" or "girl and her horse") return dozens of videos promoted with thumbnails of women seemingly engaged in sexual acts with those animals. While these bestiality-thumbed videos do not depict explicit sexual acts, they are often quite suggestive, featuring women in sundresses caring for animals or crotch shots of women as they bathe or play with horses or dogs."
* YouTube Is Still Hosting Graphic Images Of Bestiality, Nearly A Year After Its Pledge To Purge Them (Buzzfeed)
"According to a pair of surveys recently conducted by Academic Mika Koverol at the University of Helsinki many, respondents said they are fine and dandy with people having sex with robots. The thing is, however, they seem only to be comfortable with it if the human part of the pairing is single."
* Old Beliefs in a New World: Majority Says Robot Sex Is Not Okay for Married Folks
(Future of Sex)
There is little or no evidence of an association between pornography use and erectile dysfunction.https://t.co/0GcJnlnqJl

— Sex Research Now (@sexresearchnow) January 14, 2019
You can support this blog by enjoying ethical porn at Nubile Films.
"I loved The Sopranos until I hated it. Having spent my early teenage years in North Jersey, the setting, the fashion, the characters' accents and turns of phrase, even their aspirations, were familiar to me … As a recently retired stripper, I watched the scenes set in Bada Bing, the fictional strip club, with trepidation … I didn't expect sensitivity or kind regard—the Woke Mafia isn't a thing. But when the stripper fucking died, I tuned out for good."
* Rethinking 'The Sopranos' and Its Depiction of Strippers (Playboy)
"This is only made worse by the other question I get most often from these teenage boys in the classroom: Why was the rape victim so upset? They explain, The sex only took a couple minutes, but she's depressed for, like, a year. They don't understand the impact of rape. When a boy says these things, the girls in the class are shocked, and the teacher is appalled. They are stunned to discover how many of the guys don't have a clue. So was I, at first."
* I've Talked With Teenage Boys About Sexual Assault for 20 Years. This Is What They Still Don't Know (TIME)
Main post image: still from the film Spilt Milk by Maria Beatty.
The post Sex News: Oleg Deripaska mistress arrested in Moscow, Michael Cohen's thirsty Twitter, kink and the Geneva Convention, vibrator security advice appeared first on Violet Blue ® | Open Source Sex.