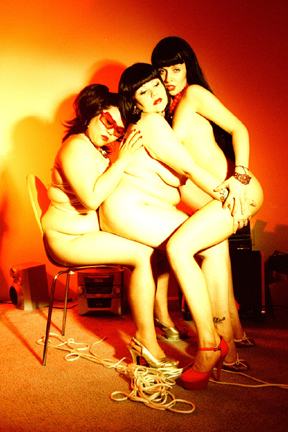 I posted about smokin' hot curvy babe April Flores (aka Fatty Delicious) on Fleshbot a few months ago, and since then we've become email pals. I'm looking forward to meeting her in person when she comes to San Francisco to become a human canvas for the Center for Sex and Culture's Kink Ink event (Saturday, April 8, 6-8 pm). I discovered in our correspondance that she's the muse and lover of a an erotic photographer whose work I became enamoured with the moment I saw it — I really felt that when Wild Skin came out, Carlos Batts would unseat the tired old fetish photo establishment. And I really think he did. Up until that book was released, it seemed like all the old guys had worn their fetish out and were just showing us younger, skinnier, more cliche-d girls that seemed more a reflection of their age, and less a reflection of the urban kink that fueled their early exploits, and my peer set. Batts has a style that's crazy with color and curves of all kinds. Imagine my delight when I found out that April was on the book's cover after I'd blogged about her on Fleshbot. Not that I'm sick of twiggy blonde 18-year-olds or anything. No, a porn diet seems to require a steady diet of twigs. They just don't mean anything to me. But a girl like April does.
April was in Belladonna's Evil Pink 2, which is good but carries a lot of porn cliches (though her scene was hot) — but April and Carlos have been working for the past 5 years on a DVD that depicts April's real-life fantasies. It's called Alter Ego. She sent me a bunch of stills (see Alter Ego link) and links to the trailer:
Here's the QuickTime link; here's the .wmv link. After the jump, you can check out the YouTube mini-trailer, which isn't as pretty as the QT video.
Make sure you buy the video from her directly, here.
The post [Video] Alter Ego + Carlos Batts appeared first on Violet Blue ® | Open Source Sex.