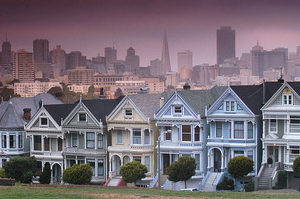 * Metroblogging San Francisco beat me to… blogging about new stuff at Tiny Nibbles! About to land in the left sidebar is my guide to San Francisco, posted last night by Jason DeFillippo who sweetly wrote, "San Francisco's favourite sex columnist and media maven Violet Blue has launched her guide to the saucy side of San Francisco. It has tips for the sexual tourist as well as awesome recommendations on places to grab a bite, generally hang out and enjoy this fine city."
* Check out Hornboy's super-awesome Braille resource page, including a list of blind bloggers and podcasters.
* And… I'm totally in love with The Taste Tester girl, a girl who is a blog who is detailing her experiments with flavoring her boyfriend's spunk — and it's as interesting as it is arousing to read. It goes down smooth with my podcast, How do you taste? I especially love her post titles, like Sex Good, Broccoli Bad and sidebar categories like Yuck!
* Now I'm going to do some blog tinkering; I have some hot stuff to blog about but want to fix a few things first… coming soon, dealing with the NYT writer, more possible YouTube discriminatory censorship on other blogs and other stuff — like what's in The Adventurous Couples Guide to Sex Toys! (Hint: bend over boyfriend, how girls can have crazy orgasms during intercourse/oral sex/strap-on sex, a full-on teledildonics how-to chapter, sex machines, super high-end sex toys…)
The post My guide to SF, adventures in braille and… Come tasting! appeared first on Violet Blue ® | Open Source Sex.