Chikan (groping) remains a big problem in Japan, especially major cities like Tokyo and Osaka, where women have to ride crowded commuter trains daily. Gropers can get away with coping a feel of a woman who is unable to move or sometimes tell outright if it's chikan or just an accident of contact such as will inevitably occur with so many people squeezed into a train. And even if she knows it's chikan, it is then hard to say with certainty who is the perpetrator, much less apprehend them after the fact. Women-only carriages have not solved the issue, since there are far too many women riding the rush-hour trains.
All this, though, is old news.
But here's a new development in the ongoing saga of chikan in Japan. Last week, someone was on the JR Musashino Line in Chiba Prefecture during the morning and snapped a picture of a fellow passenger blithely sporting a sticker on his back that announced that he was a regular practitioner of chikan.
The sticker said, in Japanese: "This person is groping people on the train every day."
As if that wasn't enough of a shocker, the man, seemingly unaware that he had been outed, is even shown in one image appearing to surreptitiously reach over to grope the butt of a woman next to him.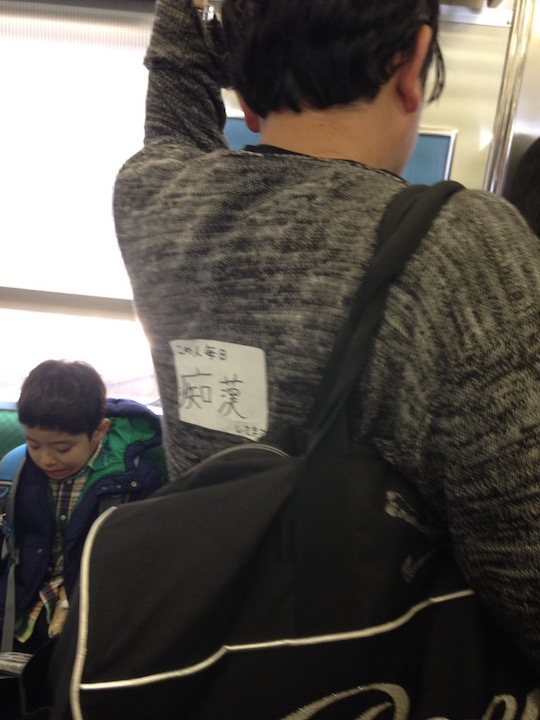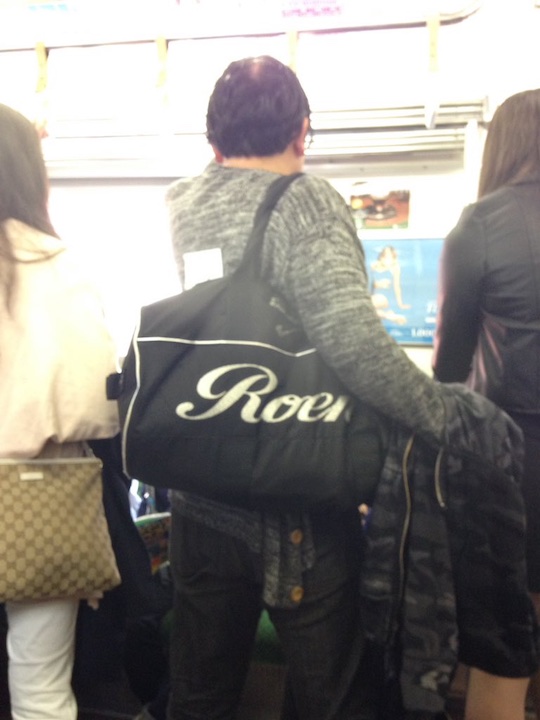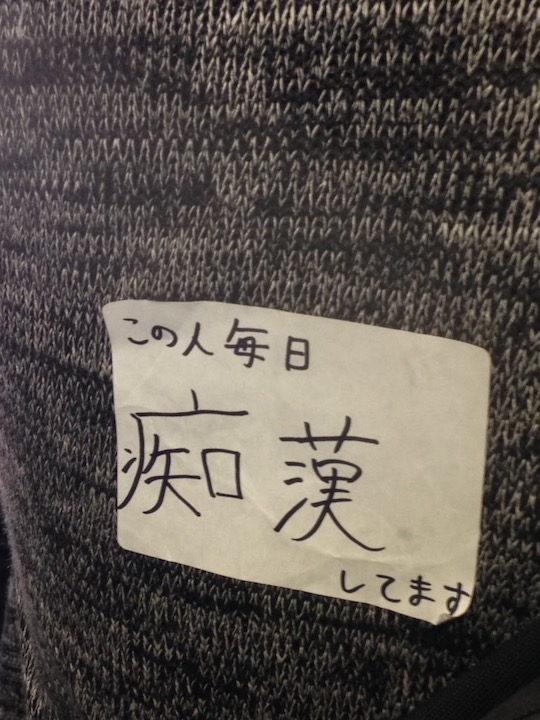 The person (female, it appears) then posted the image on Twitter under the account @Yammer_1. It went viral and was picked up some blogs (in Japanese and English), though the original tweet was subsequently removed, no doubt out of fear of a lawsuit for defamation or something.
The alleged groper is not identified, nor is his face shown. The other passengers seem unaware of the sticker or the groping that may be taking place.
The context for the image is a little dubious. Was it set up? Or was it just a prank? That is, someone with a strange sense of humor put the sticker on himself and rode the train to see what reactions it might provoke.
If someone went to the trouble of writing out a sticker and then putting it on the man to warn others, why not rather wait to catch him in the act and then take him to the authorities? It seems like a strangely roundabout way of pursuing justice.
Incidentally, not so long ago there was another anti-chikan sticker initiative whereby a woman who suspects she is being groped can show the sticker as a warning to the perpetrator. If he fails to comply, she can peel the sticker to reveal a red cross stamp, which she can then brand the groper with.

More Amateur wife XXX videos